==================
A Caveat and Affiliates
First off, a little caveat: within my articles you will find affiliate links, meaning if you buy them, I get a small commission. Your cost is not affected. In addition, I am an Amazon Associate and I earn from qualifying purchases on Amazon.
And yes, if I say that I recommend a product here, it means I truly believe it is a good product. I refuse to recommend any product that I have not researched and believe to be a good value.
Even better, I provide you with a very clear picture of the product, it's use, and the probable value.
Earning your trust is important to me. I run this website myself and the commissions and donations help support the site.
Sound reasonable and fair enough? Let's continue to the article.
==================
Mail Dilemma of the 21st century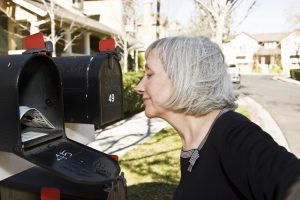 The mail dilemma of the 21st century was created by the personal computer and internet. Most of us remember waiting for the mailman, hoping to find a note from a friend, a new product sample, or the weekly sales flyer. As the usage of email has increased, the volume of mail in our traditional mailboxes has decreased.  While that has helped decrease our paper usage and also led to immediate answers, it has created a rift for many.
Our younger children would often look for the mail, hoping there was something within that special box that contained their name. That rarely happens and eventually they look to have email and Facebook to connect with their outside world.
Our Senior Citizens Enjoy Getting Mail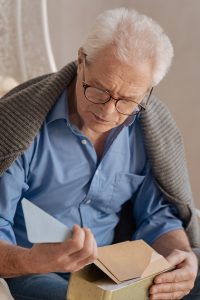 However, our seniors often still rely on the US Postal Service for their mail. Many have never learned to use the computer, while others still yearn for the feel of reaching in the mailbox and finding something special.
My Dad is such a person. My Mom loved computers and used email readily. Even so, she still looked for the mailman each day. In those days, my Dad didn't seem to care about computer or USPS mail. Now that my Mom is gone, he still dislikes the idea of computers but does await anxiously for the mailman.
Solving the Mail Dilemma
Realizing that the mail offered a connection with the outside world, I decided to create a regular mail stream for him. What should the mail contain? That depends on your senior.
My Mom would have delighted in news articles from her hometown, seeds to plant in her garden, and especially of beautiful cards from friends. She had always delighted in surprising her friends with a homemade card or small gift.
Dad is not so much a flower and card person. Ensuring mail for Dad requires a bit more thought. As a retired mechanic, he still enjoys keeping up with car trends, as well as news of the classics. History, current events, and politics keep his interest, too. TV, magazines and short articles provide some means of keeping current. However, my Dad really enjoys talking with others about those interests and yes, receiving mail regarding them, too.
Of course, favorite mail content is a personal note or card from a friend or relative. This can be a challenge to set up and continue; lives become busy and we often forget. Still, these forms of mail continue to be the most favored and worth the effort.
What can you do?
You know your grandparent or parent. It is possible to create these streams of mail, though it may be challenging to continue. However, when you see the effect it has on the attitude and mood of your senior relative, you will be encouraged to continue.
Need Help with the mail dilemma?
You might find family and friends willing to send a postcard, card, or letter occasionally. It's best if there are several people willing to take turns so that the mail arrives more frequently. You can also send surprise gifts. Keep in mind, however, that spending time with your loved ones in person and calling on the phone are important, too.
We will soon be offering mail services to help you.
Contact us for more information.