==================
A Caveat and Affiliates
First off, a little caveat: within my articles you will find affiliate links, meaning if you buy them, I get a small commission. Your cost is not affected. In addition, I am an Amazon Associate and I earn from qualifying purchases on Amazon.
And yes, if I say that I recommend a product here, it means I truly believe it is a good product. I refuse to recommend any product that I have not researched and believe to be a good value.
Even better, I provide you with a very clear picture of the product, it's use, and the probable value.
Earning your trust is important to me. I run this website myself and the commissions and donations help support the site.
Sound reasonable and fair enough? Let's continue to the article.
==================
 Challenges of mealtime for elderly
Managing meals for elderly loved ones often presents some challenges. Spilled drinks, food on the floor. And not a toddler in sight.
Prepare ahead of time. Meet the challenge with a loving smile. Your elderly parent feels embarrassed and pained by the changes. Help him relax.
Most of us don't give a thought to sitting down and enjoying our meals. As our parents age, changing some mealtime routines often proves helpful.
Volunteers with the Meals On Wheels program well know, seniors often do not eat well without a family member or advocate. Eating a single item or skipping meals entirely becomes a common routine.
Family meals are important for everyone. However, mealtime for elderly loved ones might be more than important.
Our elderly parents and grandparents need to join us for meals. They eat more and enjoy their mealtime better when shared with loved ones.
However, we need to accommodate their changing needs.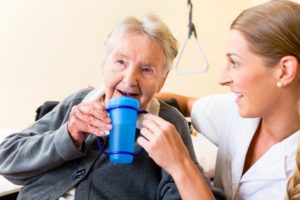 Drinks spill easily. Children spill. Elderly spill. Everyone does. However, giving your Mom a sippy cup might feel wrong to her and to you.
We opted for cups that had lids. In fact, most of us use them now.
Cups with lids and straws proved quite useful. My Dad's favorite quickly became this 20 oz wide body insulated cup with a lid that closed and
Plastic straws get a gummy feeling and need to be thrown out after each use.
I use stainless steel straws myself and found they worked well for him, too. The regular length straws worked well for small glasses and cups. For taller glasses, we use the longer length straws. Both sets come with a handy cleaning brush. Our stainless straws, now 5 years old,  still look new. I expect they will last many more years.
Both sets come with a handy cleaning brush. Our stainless straws, now 5 years old,  still look new. I expect they will last many more years.
One note on these: the narrow width works well and helps contain spills. However, for thicker drinks and smoothies, we keep these wider smoothie straws available. Wide enough to be cleaned with a thin brush, they still need replacing frequently.
Dinnerware requires other choices.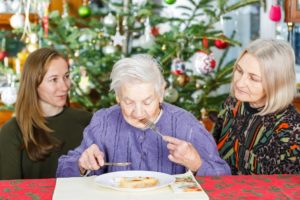 Our family doesn't normally eat with fine china. However, we do use some breakable plates. We chose to invest in some heavy plates and bowls. Although not inexpensive, the Fiesta dinnerware sets have lasted through being dropped by kids and adults. They come in a variety of colors and we chose to order 3 sets to give a variety for our large family.
Another useful hint on dinnerware; we added extra large bowls, but not necessarily for soup. Some foods slide around on a plate. Moreover, peas, sauces, and even fish might fly to the floor.
The bowls sold with the Fiesta set work well with these foods.
Another alternative that works well with soups, stews, and even pasta is this 4 piece set of soup mugs. The handles offer an easier means of keeping the bowl in place.
Setting for Meals for Elderly
Gathering everyone at the family table offers the best family dining experience when it is possible. We sometimes like to eat on the porch deck, sitting in lawn chairs. Sometimes my Dad prefers to eat in his comfortable lift chair.
Meals for elderly served in a less formal setting often prove more relaxed and enjoyable. Focus more on the social aspect and proper nutrition.
When we are not at the table, I try to have a side table set up for Dad. Even if he chooses to hold his bowl or plate on his lap, the side table holds his cup or extra utensils
Speaking of food and drink, many elderly have difficulty with swallowing. Consider having your loved one finish the meal completely before enjoying her drink. The difference between liquids and solids often creates more swallowing issues. Separating them helps.
Always include some type of napkin. Even the least messy meal might create a small mess. Most of our senior loved ones will appreciate having a napkin near.
Utensils to use with meals for elderly
Many of us preparing meals for elderly loved ones quickly learn that we need to serve meals in easily managed portions.
Shaky hands find knives difficult to manage. Cut food into bite-sized pieces.
Peas roll around, avoiding capture by the spoon. Consider serving with mashed potatoes which help contain the peas.
My Dad prefers either a fork or spoon, depending on the current meal. Offering both usually causes a juggling challenge when changing between them.
A word on plastic and paper with meals for elderly
Paper plates might provide a convenient choice for families. However, they move around too easily and often fold or drop. The plastic holders help. Still, heavier plates continue to prove easier to use with meals for elderly loved ones.
Plastic forks and knives present more challenges. The smaller size gives less surface area to grasp the utensil. The lighter weight makes them more difficult to balance. Additionally, they may break during use.
While both plastic and paper might help on some occasions, most meals for elderly are best served using everyday plates and flatware.
One more note regarding our meals for elderly….
Some special utensils are promoted as useful for the elderly. Some are intended to help with the shakiness of old age and even stroke symptoms.
We tried some of these. However, Dad found them awkward and difficult to use. We don't recommend anything on our site that we don't really like and use. If we find something in the future that does indeed help, we will feature it in a future article. For now, we suggest you save your money.
We only recommend products we have actually tried and found to be of good quality and usefulness.
If you have a comment on a product, please contact us.
AFFILIATE DISCLOSURE: Per the FTC's recent policy update that requests we be transparent about any and all affiliate relations we may have in this guide, you the visitor or customer, should assume that any and all links in this guide are affiliate links. If you utilize these links and visit the resulting site, a cookie may be set in your web browser that will cause us to receive compensation if you make a purchase. Your cost is not affected.