==================
A Caveat and Affiliates
First off, a little caveat: within my articles you will find affiliate links, meaning if you buy them, I get a small commission. Your cost is not affected. In addition, I am an Amazon Associate and I earn from qualifying purchases on Amazon.
And yes, if I say that I recommend a product here, it means I truly believe it is a good product. I refuse to recommend any product that I have not researched and believe to be a good value.
Even better, I provide you with a very clear picture of the product, it's use, and the probable value.
Earning your trust is important to me. I run this website myself and the commissions and donations help support the site.
Sound reasonable and fair enough? Let's continue to the article.
==================
Best Memory Games for Dementia
Caregivers often struggle to find interactive memory games for your dementia loved ones. Read on for some great ideas to help you discover the best memory games for dementia.
Playing memory games is a fun and most exciting way to keep your mind sharp. They are especially great for people who have dementia. These memory games allow you to unleash your creativity, preserve memory-based skills, and improve your mental acuteness.
Keeping your mind sharp and staying mentally active also reduces the probability of cognitive decline. People who have dementia need to remain alert and engaged while also enjoying a healthy memory workout.
In this regard, there is an array of games available out there. Some recent research has found that these memory games deliver social and mental stimulation for people living with dementia, which is excellent for deteriorating cognitive abilities.
So, what are the best memory games for dementia?
We have gathered some of the best memory games that are best suited for your loved ones living with dementia.
As a bonus: These games also provide a fun diversion from our current pandemic. We have more ideas here.
Best Memory Games for Dementia
1- Bingo
Bingo tops the list when it comes to the best memory games for dementia sufferers. It not only provides an accurate level of mental stimulation but also concentrates on cognition without any stress. Since the game requires alertness and concentration, it is incredibly helpful in improving the condition of patients.
It is also a fun group game that brings dementia patients together with family, helping them build their internal relationships in a loving home. An important benefit of the game is its versatility. If the person struggles with numbers, you can replace it with anything, including food and animals.
Why Should you play Bingo?
 It boosts cognitive abilities.
 By encouraging movement, it strengthens your physical health.
 I play Bingo with others, therefore it encourages social participation.
2- Dominoes
With its black and white design, the game called Dominoes makes incredibly easy to use and one of the easiest to understand games for dementia patients. The pieces come in a large size, making it easy to hold and move around the table. Since the game is a fun activity and keeps the mind active, we consider it among the best memory games for dementia.
Dominoes also encourages dementia patients to create a strategy and stay sharp to win the game. The focus and concentration required to play the game are incredibly helpful in building memory retention.
Why Should you play Dominoes?
 Playing Dominoes reduces stress.
 It builds a bond with families and social groups.
 Dominoes helps to develop critical thinking.
 It improves mental health.
3- Card Games
Especially for seniors, card games like bridge and pinochle are great to reduce or prevent cognitive decline, improve concentration, and exercise memory. However, even simpler games such as rummy and crazy 8's offer such benefits.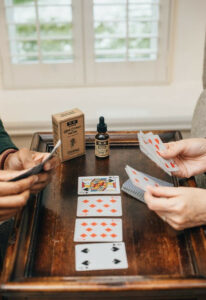 Why Should you play card games?
 It builds memory retention.
 Card games help keep the mind sharp.
 Most card games are played with others, thereby building relationships.
 It improves concentration.
4- Snakes and Ladders (also known as Chutes and Ladders)
Who doesn't know about snakes and ladders? It is a universally popular game with similar rules. Snakes and Ladders are among the best memory games for dementia patients on various levels. The game features a bright board with intense colors, making it suitable for people with visual impairment.
It is also a fun way to bring families together and have fun. And all ages enjoy this family-friend game, invite your grandchildren to join in. The game also has pre-school editions with larger dice and pieces that you can buy.
Why Should you play Snakes and Ladders?
 It is a suitable activity for leisure time and includes all ages.
 You play with others, so it promotes social skills.
 Often taking on a lively note, it keeps you active and alert.
5- Call to Mind
Call to Mind is another memory game developed by a therapist specifically for people who have dementia. The core concentration of the game is to encourage people with dementia to talk and connect. The game helps get to know and understand memory loss, thinking, and likes and dislikes of patients. Play this game anywhere, including a professional care home setting, memory café, or home with family or friends.
Why Should you play Call to Mind?
 Developed for memory issues, it gives people with dementia a voice.
 It improves communication skills.
 Call to Mind boosts the self-esteem level.
 It boosts memory skills while having fun.
6- Eidetic
Another one of the effective memory games for dementia patients is Eidetic. It is incredibly helpful in developing memory and imaginary abilities. The game requires you to memorize the pictures it draws. It is also great for developing observation skills.
It helps you to memorize anything, such as phone numbers, banking information, vocabulary, etc. The game, with spaced repetition and intriguing mental principles, helps you to build your memory skills.
Why Should you play Eidetic?
 It improves memory skills.
 Eidetic keeps you attentive and your mind sharp.
7- Clevermind
Clevermind, similar to other best memory games for dementia that I have included on this list, is developed for people with dementia. It is an interactive, engaging, and easy-to-use way for seniors with low cognitive ability to keep themselves entertained independently, while also boosting their cognitive skills.
It includes a series of exercises and puzzles, which is a fun way to stay engaged and active. However, Clevermind is more than just a memory game. It also features other useful tools that include food tools, social networking, and medical information. It is an easy and significant mental health tool.
Why Should you play Clevermind?
 It helps you to stay sharp.
 Playing Clevermind improves mental health.
 It boosts cognitive abilities.
Created for memory issues, it is a tremendous brain-training tool.
8- Brain Matrix
Here is one more useful collection of games that is incredibly useful to train your brain. It includes various interactive games that help with color, IQ, concentration, memory, spatial intelligence, and creativity. It also provides an outstanding way to prevent dementia and Alzheimer's by strengthening your brain in a fun and interactive way.
Why Should you play Brain Matrix?
 It improves concentration.
Playing Brain Matrix helps to train your brain.
 It helps you to unleash your creativity.
 Specially designed for the task, it improves memory skills.
 It aids in the prevention or delay of dementia.
Wrapping Up
There you go – 8 best memory games for dementia. These are just a few games that could help you to prevent or reduce the probability of dementia. If you're a caregiver, you can use these games to improve your dementia patients' memory skills, improve their mental health, and keep them engaged and active.
But the list doesn't end there!
Other great games for preventing and slowing dementia include:
Jigsaw Puzzles– While your loved one might enjoy these as a solo activity, they also make great family time fun. Consider using larger pieces if your senior has dexterity issues. Picking up small pieces often frustrates those with arthritis or stroke difficulties.
Sudoku – This simple game offers a chance for your senior to play by himself or help or be helped by family. Even those with dexterity issues can join in the fun while someone else writes or types the responses.
Scrabble – The classic Scrabble game provides hours of fun for most everyone. However, some may find the tiles hard to read or even more difficult to pick up with arthritic fingers. Consider buying a larger board with the jumbo tiles. Alternatively, you can play in pairs where your senior is paired with someone capable of moving the tiles. Still another choice- try online scrabble. Free editions make this an economical choice!