==================
A Caveat and Affiliates
First off, a little caveat: within my articles you will find affiliate links, meaning if you buy them, I get a small commission. Your cost is not affected. In addition, I am an Amazon Associate and I earn from qualifying purchases on Amazon.
And yes, if I say that I recommend a product here, it means I truly believe it is a good product. I refuse to recommend any product that I have not researched and believe to be a good value.
Even better, I provide you with a very clear picture of the product, it's use, and the probable value.
Earning your trust is important to me. I run this website myself and the commissions and donations help support the site.
Sound reasonable and fair enough? Let's continue to the article.
==================
Best Hobbies for the Elderly
We explore the best hobbies for the elderly loved ones in your family. Although our parents and grandparents might not be as active as in their youth, they still benefit from hobbies that they enjoy.
Hobbies help us make new and keep connected with friends, improve your disposition, and help decrease stress and anxiety. They provide important mental stimulation. And even sedate hobbies keep us more physically active.
Sadly, today everybody seems caught up in their own preferred activities. But shared interests enhance the life of our aging family members and provides significant functions in our lives.
What Hobbies Make a Difference?
With a seemingly endless list of possibilities, which hobbies make the most effective difference? For that, consider the senior loved one's interests and personality type.
For my grandmother, her physical condition created some problems. She enjoyed hand-crafts such as knitting and crocheting. But arthritis made those difficult and eventually impossible. Grandma still loved her house plants and her special pet cat. Those interests kept her engaged.
Grandma's love of baking for family and friends became more difficult as dementia encroached. But she continued to enjoy time with family, reminiscing and sharing stories of days gone by. Family time kept Grandma happy and became a type of hobby for her.
Mom's senior years took a very different turn. In fact, she was able to keep very active until a tragic car accident. Her favorite hobby was bowling. Not only did it provide important exercise, but it also helped fill her need for socializing with friends. In fact, after suffering a heart attack, her desire to get back to her bowling leagues fueled her recovery.
Various hobbies will differently affect individual partaking.
Games and wellness exercises help keep our senior individuals healthy and enthusiastic. Of course, they do the same for every age person. However, they also fill the need for socializing with others of all ages, but especially other similar aged friends and family. 
Some of the Best Ideas of Hobbies for the elderly, such as cooking and growing plants, help support our more seasoned individuals' confidence. Indeed, such activities often become a source of much-needed pride. Understanding books and playing computer games helps keep the brain active, too. Such mind exercising lessens or delays the chance of dementia. consequently improving the overall quality of life. These are, likewise, fun exercises for elderly people.
In today's world, having a hobby might seem odd for elderly people.  As adults, we keep busy with work and family. Then, when we have time to enjoy those "golden years," we might not grasp the idea of a hobby for pleasure. However, research and proves the value in encouraging our elderly loved ones to pursue or continue a leisure activity. Not only does it provide enjoyment, the health benefits reign high, too.
Let's look at the many options available nowadays of hobbies for the elderly.
1.  Gardening
Gardening is a deep-rooted action that shouldn't end with dementia. The individual may require some assistance, yet there are heaps of things that they can do. Consider planting in pots or raised beds, so there is simple access for your senior without bowing down or bow on the ground. There are DIY ventures online for raised bed plans that permit wheelchair access so everybody can take an interest. It is the most popular hobby that is found in nearly every elderly all over the world.
If you will include the birding venture, consolidate the nursery too. Plant blossoms that will pull in hummingbirds and butterflies. Plant grasses or cornflowers that have seed heads that the goldfinches can benefit from throughout the winter. Plant pots with cherry tomatoes so your senior can effectively pick the tomatoes and appreciate them son their serving of mixed greens.
Plant hedge beans in your raised bed. The bean seeds are enormous and simple to deal with in any event, for seniors. They are pretty secure, and soon, your senior will reap enough beans to have the option to part with a few.
2. Volunteering
Volunteering is a hobby that can assist the elderly by offering their amazing life experiences and talent to the network and lift confidence. In general, many systems will welcome the additional assistance with coaching the young, giving clothes to poor people, taking care of the hungry, and raising support.
It is a side interest that can reestablish the reason forever and cause the senior to feel required. Additionally, it is a road for growing public activity. Some associations have volunteer places that attention on great courses.
3. Fitness Activities
Aside from sports, you can engage in wellness exercises, for example, setting off to the rec center, climbing, Nordic strolling, strolling, and cycling to improve your wellbeing.
Some rowers, ski machines, and similar fitness equipment provide an ideal way to exercise while socializing with other adults in a safe setting. Some of these machines work well at home, too. They provide a full-body movement using strolling shafts to bridle the intensity of the chest area.
Individuals with wellbeing concerns can have delicate strolls to condition their bodies. You drop the weight from your knees when you utilize Nordic shafts.
It is an activity that can forestall constant ailments, including asthma, diabetes, and heart disorders. Nordic strolling likewise causes you to meet new individuals hence, improving your public activity.
While participating in wellness exercises, it is important to recognize what your body can adapt to. Please check with your physician for appropriate information.
4. Community Groups
As the adults get elderly, they become lonelier than previously. Loved ones may move, disregarding them, attempting to make new relations. Dejection is upsetting and a component that can trigger medical conditions, for example, despondency.
In numerous zones, local gatherings are zeroing in on various diversions and interests. The most widely recognized are practice classes, for example, yoga, singing conferences, tabletop game bistros, book perusing, and moving. Seniors can join these gatherings and fill their schedules with leaving get-togethers all year.
5. Adult Learning
Adult learning is nearly equivalent to the local gathering and has different social advantages. The elderly people get the opportunity to meet individuals of their age with comparable interests and can share stories, counsel, and tips in a given instruction course.
Adult learning can help you to boost your brain health. No doubt, it is also surging worldwide as one of the best hobbies for the elderly.
6. Artwork
The artwork is also the most favorite hobby for the elderly nowadays. The issue with quality undertakings of the past is that you required something less troublesome on the off chance it was made for youngsters and not age-fitting. Not today!
There are huge amounts of grown-up shading books on various topics. They can be hued with paint or markers. There are additionally felted pictures for grown-ups to shading.
A few people have more ability with 3D craftsmanship. Suppose the painting doesn't appear to intrigue your senior, attempt earth figure, or needle felting. On the off chance that your senior is a knitter or likes to stitch, even with dementia, they may, in any case, have the option to make basic pieces.
Numerous worships, medical clinics, and nursing homes are searching for volunteers to make the prayer shawls. These are straightforward rectangular sewn or stitched wraps that can be worn around the shoulders and give comfort just as warmth. It will be an opportunity for your senior to contribute.
7. Games and Puzzles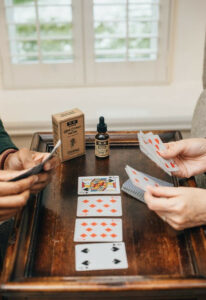 Riddles are the absolute most energizing side hobbies for the elderly. There are various structures to look over. However, maybe the most pleasant is the jigsaw puzzle.
They come in various pieces range from 500-2,000 to the most testing, 5,000. An individual can make a long time of fun because the riddle doesn't need to be finished in one go. 3D puzzles have an alternate impact.
A portion of the world's most mainstream tourist spots could be reproduced to give the mind a superior exercise. It can be useful in keeping the intellectual capacities dynamic. For elderly individuals, the beginning of dementia could be postponed or forestalled.
8. Reading Book
Reading a book is the most common hobby which is found in the elderly. Perusing is something anybody can appreciate. For the elderly, reading a decent book can keep them energized and centered. The class to look over many, which means there will consistently be something to pick.
If your cherished one is a colossal enthusiast of sports and TV, the life accounts to browse are practically perpetual. Indeed, most favorites can be found on E-Books. That saves space and usually a bit of money, too. Reading also hones and improves memory, improves rest, and lessens anxiety and emotional pressures.
9. Music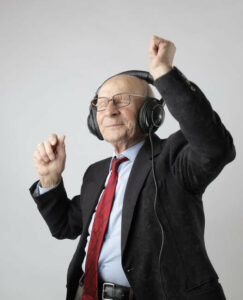 Research demonstrates that music can greatly affect the elderly. The melodies from their past have a striking effect. We've all experimental recordings of individuals with Alzheimer's who appear to be isolated from the world with their head down and nonverbal. Yet when a Benny Goodman Big Band sound goes ahead, their head springs up, they grin, and begin chiming in. It is not just now and then, however. Surprisingly;  it happens regularly if not exactly so significantly.
Consider how frequently you are tuning in to an oldies station, and they play a tune that you cherished as a young person or mid-twenties. You are astonished to understand that you can sing directly along. You haven't overlooked a solitary word.
10. Caring for a Pet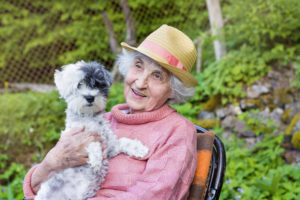 Did you realize that thinking about a pet creates a synthetic chain response in the cerebrum that can help bring down the pressure actuating hormone known as cortisol?
The compound chain response likewise builds the creation of the vibe great hormone alluded to as serotonin. Studies show that seniors who care for a pet enjoy health benefits. These include decreased pulse and lower pressure and cholesterol levels. Caring is also one of the best hobbies for the elderly.
Old pets make a great choice. Often, they happily lie quietly by the loved one's side, happily being petted. Also, they require less exercise. However, caring for the pet, including exercising, still helps to keep the elderly active.
And choosing an older pet helps the pet, too. Often people overlook the aged dog or cat in favor of a young pup or kitten to grow with them.
You Decide the Best Hobbies for the Elderly in your life
Exercise, a nutritious eating regimen, and great wellbeing empower elderly individuals to feel vigorous. Life span research shows that social, physical, and mental action work together to provide a healthier and happier life for senior adults.  An energetic interpersonal organization, pastimes, and relaxation help seniors keep away from seclusion and live long.