==================
A Caveat and Affiliates
First off, a little caveat: within my articles you will find affiliate links, meaning if you buy them, I get a small commission. Your cost is not affected. In addition, I am an Amazon Associate and I earn from qualifying purchases on Amazon.
And yes, if I say that I recommend a product here, it means I truly believe it is a good product. I refuse to recommend any product that I have not researched and believe to be a good value.
Even better, I provide you with a very clear picture of the product, it's use, and the probable value.
Earning your trust is important to me. I run this website myself and the commissions and donations help support the site.
Sound reasonable and fair enough? Let's continue to the article.
==================
How to Choose the Best Lift Chair for the Elderly in your life
Introduction
Choose the best lift chair for the elderly in your life and see what an incredible benefit such a mobility aid brings to their life. Indeed, caretakers benefit from their senior loved ones having a lift chair, too. The power lift chairs gently raise the seat to an almost standing position. This allows for an easy change of position from sitting to standing. Then, when the person is ready to sit once again, the chair helps them into a comfortable position.
When my Dad had his lift chair, he found a new freedom. As his condition grew worse, he often slept in his chair in a reclining position. His doctors assured us that many elderly found these chairs more comfortable than their own beds. Dad agreed.
Health and comfort become a priority when a person gets old.
It is important to take care of health in every phase of life. But as we age, taking extra care of health helps ensure a healthy and happy old age.
The elderly often need support in walking, sitting, standing, and sometimes even lying down. They deserve an extra comfort level because in old age a person becomes weak and inactive to some extent due to so many reasons. Most of the time elder members at our home love to sit, and to make their sitting time enjoyable and restful, we need a good chair that can provide them a righteous comfort level. To fulfill this requirement of seniors, there is no better alternative than a lift chair.
A lift chair is an armchair that helps the elderly to sit and stand with ease. It's reclining and lifting function is purposeful for the elderly to get seated in and out very easily. It also reclines backward to help lying-down on it for sleeping. The lift chair is gaining popularity among the elderly people of the world and especially those who have a problem with joints and mobility.
Furthermore, it is also useful for seniors who face difficulty in sitting and standing, and even recovering from any surgery and having problems in the movement. It has a motor to help support the seating in upright and reclining positions and one can adjust the position according to his/her comfort level. Therefore, we need to choose the best lift chair for the elderly to make them self-reliant and not dependant on others.
In this article, you will learn:
Benefits of Lift Chair for the Elderly
What to Look for while Buying Lift Chair for the Elderly
8 Best Lift Chairs for the Elderly
Conclusion
Benefits of Lift Chair for the Elderly
As we all know the elderly requires extra support in sitting and standing due to the age factor so, we need a lift chair for them to make them trouble-free and comfortable. The benefits of the lift chair for the elderly include:
Alleviate difficulty:
Lift chairs are built to reduce and alleviate the difficulties faced by elders in sitting and standing. This chair features a mechanism and it is designed to pushchair from its base to bring you to the standing position and also to bring you from a standing position back to a seating position. What a nifty idea is this.
Therapeutic relief for stiff joints:
Commonly, the elderly may have stiff joints or arthritis. The lift chairs available in the market contain therapeutic relief. They do this through either a massager or a heater, sometimes both, and sometimes make the elderly want to take a nap by its soothing and relaxing effects on the body.
Support and stability:
The lift chair provides great support to the elderly in sitting and standing. It is amazing to know that you have a supportive chair under you when going from a seated position to a standing position and vice versa.
Provides a motorized boost:
The motor system is installed perfectly in the lift chair which provides the elder users a motorized boost by using the convenient and easy to use remote control without any hassle. The motorized boost is helpful to make them independent and not asking from anyone else to support them in getting up and sitting down.
Purposeful remote:
The remote function offers different speeds and controls and the elderly people can perform their movement according to their needs. If they want to get up speedily, the remote offers a variety of speed levels. And if they urge to sit down quickly if tired this chair can get them into their desired position in an instant too.
Greater mobility:
The lift chair allows the elderly patients greater mobility. Not only the patients but also those recovering from surgery, or those seniors who are being suffered from the various problems of joints and back.
Good for patients with pressure sores:
Pressure sores often create pain for our elderly loved ones. They may lead to other health issues if not treated. The Mayo Clinic offers this advice for managing these tragic but usually preventable problems.
The elderly who are suffering from pressure sores would welcome the infinite positions. A lift chair can get into virtually eliminate those pressure points.
Lumbar support:
There are some lift chairs available in the market with the ability to customize them. They have lumbar support added what benefits the elderly the most. They will get the heat and massage both or one at a time depending upon the model you get and will help in the blood flow and soothe the achy muscles while the adjustable lumbar support. It can help support the lower back for back pain also.
Protective to head and neck:
The power headrest allows the elderly to move the headrest so that it supports the head and neck while switching from watching the television to reading the tablet.
Blends in the natural surroundings:
Apart from all the above-discussed benefits of the lift chair, it can blend with the surroundings and look like a part of the living room or wherever you place it. It does not look like any medical equipment at all.
What to Look for while Buying Lift Chair for the Elderly
It depends on the individual needs which one is the best lift chair for the elderly. The lift chair assists the elderly in getting from the seated position into a standing position. These chairs also allow raising the legs that the elderly cannot due to some medical conditions. With so many options available in the market for the lift chair, it is sometimes difficult to decide the best lift chair for the elderly. Here are a few considerations which will allow you to select the best lift chair for the elderly:-
Single or dual-motor:
A single motor chair does as the name suggests and runs off one motor. When the leg rest starts to raise the backrest will begin to recline. Single motor chairs tend to be easy to operate. As there are only two buttons on the hand control.
To think about a dual motor chair allows independent movement of the leg rest and the backrest. This means that a greater range of positioning can be achieved. Having two motors, however, means that there are more buttons on a hand control which some users may find trickier to operate.
Do you have enough space?
If you are used to using a normal armchair for the elderly, you may find that your new chair needs more space to operate effectively. There needs to be enough room for the chair for the leg rest raise and enough room at the back of the chair for the backrest to recline. If there is less space in your room it may be a good idea to consider a single motor lift chair. As typically they can be placed closer to the wall saving space.
What size do you need?
Getting the right size is important to ensure maximum comfort. Request the seat that gives you enough room and allows you to reach the armrest comfortably when you are seated and your feet touch the ground. The lift chair comes in different sizes like small, medium, large, and customized fit for the elderly.
Also, consider whether a pet sits with your elderly loved one. My Dad's dog, Mickey, occupied about a third of Dad's chair, so we opted for a larger seat to accommodate Dad's best friend.
Which fabric do you want?
Lift chairs come in a choice of fabrics and the signature range or Warrick suede and vinyl are available. This comes down to the personal preferences of the elderly. Vinyl may be a good option if you want a chair that is easy to clean while fabric may be a good option if you want a cozier look and feel for the elderly.
 We must look for enough comfortable products for the elderly and exactly according to their medical requirements to make it the best lift chair for the elderly.
However, a note of caution as you price out options.
We chose the best material for Dad's comfort. But Dad's stroke had caused incontinent issues. Once I covered his seat with a waterproof covering, the chair material didn't matter as much. I could have saved a few dollars.
But I have no regrets. Dad was quite proud of his chair and loved the extra thought we put into choosing it!
8 Best Lift Chairs for the Elderly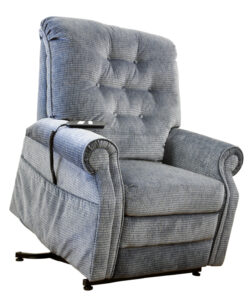 When searching, you will find several types of lift chairs available in the market. Each brings benefits and some issues to consider. Lift chairs act as a great supporter of our elderly members and help them gain the confidence that they are not dependant on others. Choosing the best chair might be a challenge, but the end result is worth the extra time spent.
Therefore, based on customer reviews, prices, feedbacks, purchase history, designs, features, durability, and usefulness we have created a list of 8 products. This will help you to find the best lift chair for the elderly loved one in your life.
The first is Dad's Favorite, so we highlight it for you. The others were recommended by other users and so make our ranking for the best lift chairs for elderly loved ones. However, they are not in a specific order.
Without further adieu, here they are:-
Now we will discuss the features, pros, and cons of each lift chair for the elderly listed above.
***My Dad's Favorite!***
Golden Technologies offers the best,  top-of-the-line lift chairs. GT knows how to build a product that functions well and lasts for years. My Dad used his GT chair continuously for over five years. We replaced his remote once when he spilled coffee on it and shorted the electrical. That was it. The chair itself was like new when we sold it after Dad passed.
The features of this lift chair include the ultra-padded arm style and back style for maximum comfort as well as a tasteful modern design. The extended arm length makes the use easy while entering or exiting in the lift position. It also provides full arm support when in a completely reclined position. There are multiple color options including a variety of luxurious chenille fabrics with stain resistance. (see note below on fabric choices)
The programmable remote and motor design provides limitless positioning or infinite positioning. It includes a sleeping position, the zero-gravity position, and the Trendelenburg position which is ideal for lower body swelling.
The maxi comfort 535 is available in a wide range of sizes accommodating everyone from 5 feet to 6 feet, weighing up to 375 pounds as well as a heavy-duty version that supports up to 500 pounds.
For size reference, my Dad was just over 6-feet tall and weighed about 170 pounds. He was quite comfortable, even with his slightly chunky fur-pal sitting with him!
Pros
Highly suitable for elderly with special needs
Comfortable and padded seat
Infinite adjustable positions
Remote control
Ideal for larger/heavyweight elderly
Easy to operate
Assembly is easy
Nice and durable fabric
Easy to clean
Simple design
Smooth operations
Warranty
Super Quiet
Heavy-duty chair
Built to last!
Cons
A little pricey (but well worth the price, if you can afford it)
It's heavy to move around but the weight is actually a pro-feature for durability
Style and functionality are merged in this recliner chair by Ashley. There is a dual-motor installed which lifts the chair with just one press on the remote for a unique and ultimate lounging experience for the elderly. This feature also helps in the elevation of the legs.
It is designed with thick cushions, a high back, and faux leather upholstery to provide a maximum comfort level to the users. The armrests are cushioned with soft padding to add extra support for the arms when placed on them. This extraordinary lift recliner chair is 35 inches wide, 42.5 inches high with a 20 inches seat height, 40 inches deep, and 69 inches in length when fully reclined.
An instructional guide, hardware, and tools are also included for the easy assembling of the chair. It can be delivered promptly and without any hassle.
Pros
Fully padded seat
Ideal for elderly
Suitable for heavyweight seniors
High-quality fabric
A good item for lounge
Wide seat and back
Smooth operations
Super quiet
Assembles with ease
Easy to clean
Easy to operate
Warranty
Hardware and tools are provided
Cons
Suitable for high budget holders
Takes more space
Heavy weight
It supports up to 300 pounds. It is ideal for people who have leg back problems or people who had surgery. Extending footrest and reclining feet allows fully stretching and relaxing. It is ideal for watching television, sleeping, and reading. The side pocket design creates a very convenient place to put remote and other small belongings.
It is easy to assemble and all the required accessories are included. Lumbar support ergonomic design reduces the stress and strain of the elderly. The craftsmanship beautifully crafted with the finest materials creates a perfect chair for any space. One can sink into the soft cushions of this possibly best lift chair for the elderly for the ultimate comfort and so much more.
Pros
Most amazing chair for the elderly
Comfortable and fully soft padded seat
Ergonomic design
Additional side pockets
High-quality material is used in manufacturing
Allows full stretching
Soft cushions
Footrest
Instructional guide
Easy to assemble
Simple operation
Easy to clean
Cons
Needs additional plugs
The recliner is medium-sized
Not recommended for low budget holders
This product for the elderly is the smarter choice. There are 8 powerful vibration motors, 4 customizable settings, 3 levels of intensity, 5 massaging modes, and soothing heat, which provide complete relaxation to the body. It has adjustable backrest reclines while letting your back recline from 90 to 140 degrees.
When you sit back and push the ottoman with your legs and the chair would come back. You can enjoy the tea and reading time on this massage sofa. This is a recliner chair with a heating function. High-density foam is used in the making of cushions which is highly comfortable and reasonable in stretching.
The back heating system will add more comfort for the back muscles to warm and relaxed while sitting. The heating function will help the elderly with spine problems, waistline part issues/pains, and ease the stiffness of muscles.
This high-quality lift chair for the elderly is made of microfiber fabric that is not sweaty in summer and cold in winters. This chair features an overstuffed seat, backrest, and armrest. It is more comfortable than a normal chair. The solid wood frame is useful to provide maximum flexibility and stability. You can store this lift chair for the elderly easily at your home. There is a surety of the item that it is high-quality.
Pros
Internal pull handle for reclining function
Reduces neck pressure
Durable wood frame
Microfiber fabric used
Suitable for elderly with special needs
High-quality product
Remote control
Easy to assemble
Easy to operate
Cleans and maintains easily
Heating function
Added massage function
3 intensity levels
Cons
Heavyweight
Down mechanism does not work efficiently
Takes more space
Mcombo electric power lift recliner chair sofa with massage and heat for the elderly has three positions, 3 side pockets, and a cup holder. The functional USB ports are a very good addition to this product. It is made up of faux leather and dark brown.
The power lift recliner counterbalance lift mechanism with certified motors pushes the entire chair up to assist the elderly to stand up easily without adding stress to the back and knees. It can be smoothly adjusted to the lift and reclining positions by just pressing two buttons. This means that it is very easy to use by the elderly.
The vibration and soothing heating system will make the muscles relax and can lead to good sleep and a nap. There are 5 intensity levels of vibration and heating. One can easily adjust these levels according to suitability and both can be turned off with a fixed timer as you set in the form of date and time. This lift chair is easy to clean and durable.
Pros
Recommended for the elderly
Upgraded model
Useful in the maintenance of health
USB ports
Able to carry heavyweight people
Supportive for back and legs
Vibration and heating function
Price is under $500
Dual cup holder
Powerful motor
Remote control
Easy to operate
Cleans easily
Easy to assemble
Cons
Can be sweaty for some users especially during the summer season
Seems to have inadequate adjustment levels
Can be noisy
Mcombo electric power lift recliner chair sofa with massage and heat for the elderly has 3 positions. There are 2 side pockets to keep small items securely and 2 cup holder best meet the needs of the elderly. The dual USB ports are very useful in keeping the devices charged.
The fabric used is faux leather and brown. The power lift recliner counter the balance lift mechanism pushes the chair to help the elderly to stand and does not add any hassle while movements. It can be smoothly adjusted to any position for a comfortable posture.
The soft padding and simple line stretched out backrest back with an unexpected sense of the parcel. There are built-in springs in both the back and seat. Besides, the overstuffed pillows in the armrest are more comfortable. The treated cloth surface is characterized by silky touch and good elasticity which is resistant and can be cleaned easily.
Pros
Power lift
3 different positions
Vibrating system
Heating system
Durable motors
Dual cup holder
2 pockets for storage of small items
Affordable
Dual USB outlets for charging the devices
Long-lasting fabric
Soft padded cushions
Well stuffed armrest
Ideal for heightened people
Suitable for heavyweight seniors
Cons
Heavyweight
Motors can be a bit noisy
Sweaty in the summer season
Fewer adjustment levels
It is like a catnap sofa for the elderly. It is made of a solid wooden frame and faux leather. The functional side pockets are used for keeping the TV remote or other handy items. The power lift function can push the entire chair up and support the standing and sitting position of the elderly and the built-in footrest is easily powered with the help of one press on the remote control. Back and footrest can work together.
There are 4 areas of massage focus, legs, thighs, lumbar, and back with 5 modes. These modes include; pulse, press, wave, auto, and normal which meet the demand of the different massage of the elderly. It is easy in assembling without any extra assistance. Therefore, this lift chair can be ideal for the elderly with special needs and allows them to be independent. One can enjoy sitting on this lift chair in the lounge or even you can place it in the bedroom.
Pros
Designed for the elderly
Backrest and footrest
Power lift recliner
Easy to operate
Easy to assemble
4 areas of massage focus
5 modes for massage
Vibrating system
Heating system
Side pockets
Price under $500
Leather is used, which is easy to clean
The wooden frame is durable
Cons
Sweating can be caused due to leather
Wheels cannot be locked
A little noisy motor
Not suitable for larger elderly
The power lift system of this lift chair allows the east standing and sitting positions to the elderly who use it. It provides great support to the back and knees while sitting and standing due to its unique functionality. It can be adjusted in 3 positions; normal, reclining, and lifting. The material used in the manufacturing of the main body is PU leather which is a long-lasting material. The solid wood material used in the framing and the safety device system installed is approved worldwide.
These all are the main requirements of the best lift chair for the elderly. You can easily place it anywhere in your house or wherever the elderly member of your home likes to sit on it and have the ultimate experience of comfort and ease from watching television to reading the tablet or a book of their choice. It can be placed in the bedroom, living room, and study room. It is highly supportive for the back and neck due to its wide backrest. Its remote control is also convenient to operate and this lift chair is useful for the surgery recovering elderly also.
Pros
fully adjustable
massager, heat, and vibrate functions
Supports back and knees while standing and sitting
Solid construction
Has cup holders and side pocket
USB port
Cons
Not comfortable for tall or large people
Some quality control issues (few, but worth mentioning)
Conclusion
The good health of the elderly is very important. To maintain their good health status and meet their needs accordingly, we need some equipment for their comfort and ease. The lift chair for the elderly is one of those needs. From the above discussion, it can be concluded that the lift chair for the elderly is a very functional and purposeful asset for the old people. They provide ample support to them in the movements that they cannot perform without manual support. The lift chair has made this act automated for the elderly.
All the lift chairs available in the market can be beautifully designed by the manufacturers but the above-discussed products own unique qualities within themselves.
The lift chair by Golden Technologies has proven to be the best lift chair for the elderly for decades.
The lift chair by Ashley is also a masterpiece that is supportive for the elderly but both these items can be budget-friendly for high budget holders. Moreover, the products by Irene, Mcombo, Merax, Magic Union, and Esright are also some of the best. Having hope that you will invest in buying a good lift chair for the elderly member at your home after getting the information based on our positive research.
Your loved one will have a supreme time using the best lift chair for the elderly. 
While Mom or Dad relaxes in their new favorite chair…
Help them hear the TV more clearly with these speaker options.
Choose the healthiest snack choices
Let their pet snuggle with them.