==================
A Caveat and Affiliates
First off, a little caveat: within my articles you will find affiliate links, meaning if you buy them, I get a small commission. Your cost is not affected. In addition, I am an Amazon Associate and I earn from qualifying purchases on Amazon.
And yes, if I say that I recommend a product here, it means I truly believe it is a good product. I refuse to recommend any product that I have not researched and believe to be a good value.
Even better, I provide you with a very clear picture of the product, it's use, and the probable value.
Earning your trust is important to me. I run this website myself and the commissions and donations help support the site.
Sound reasonable and fair enough? Let's continue to the article.
==================
Best Dog For Seniors, My Parent's Dog: Mickey's Story
I would not have chosen Mickey as the best dog for seniors. But my Mom chose him when her dear little Jack Russel Terrier died. Old age took their beloved Tina, just as it had Tina's predecessor, Shad, a delightful Border Collie.
Mickey was a rat terrier, reminiscent of my Mom's favorite childhood pet, a toy fox terrier. Dad wanted a beagle or another border collie. But he deferred to Mom's desire for the little rat terrier.
The naming of animals usually fell to Mom but they both knew Mickey's name on his first night home. He sat across the room, this tiny little pup, trying to figure out his new surroundings. His 9-week old body seemed dwarfed by those big black upright ears.
"He looks just like Mickey Mouse!" Mom laughed.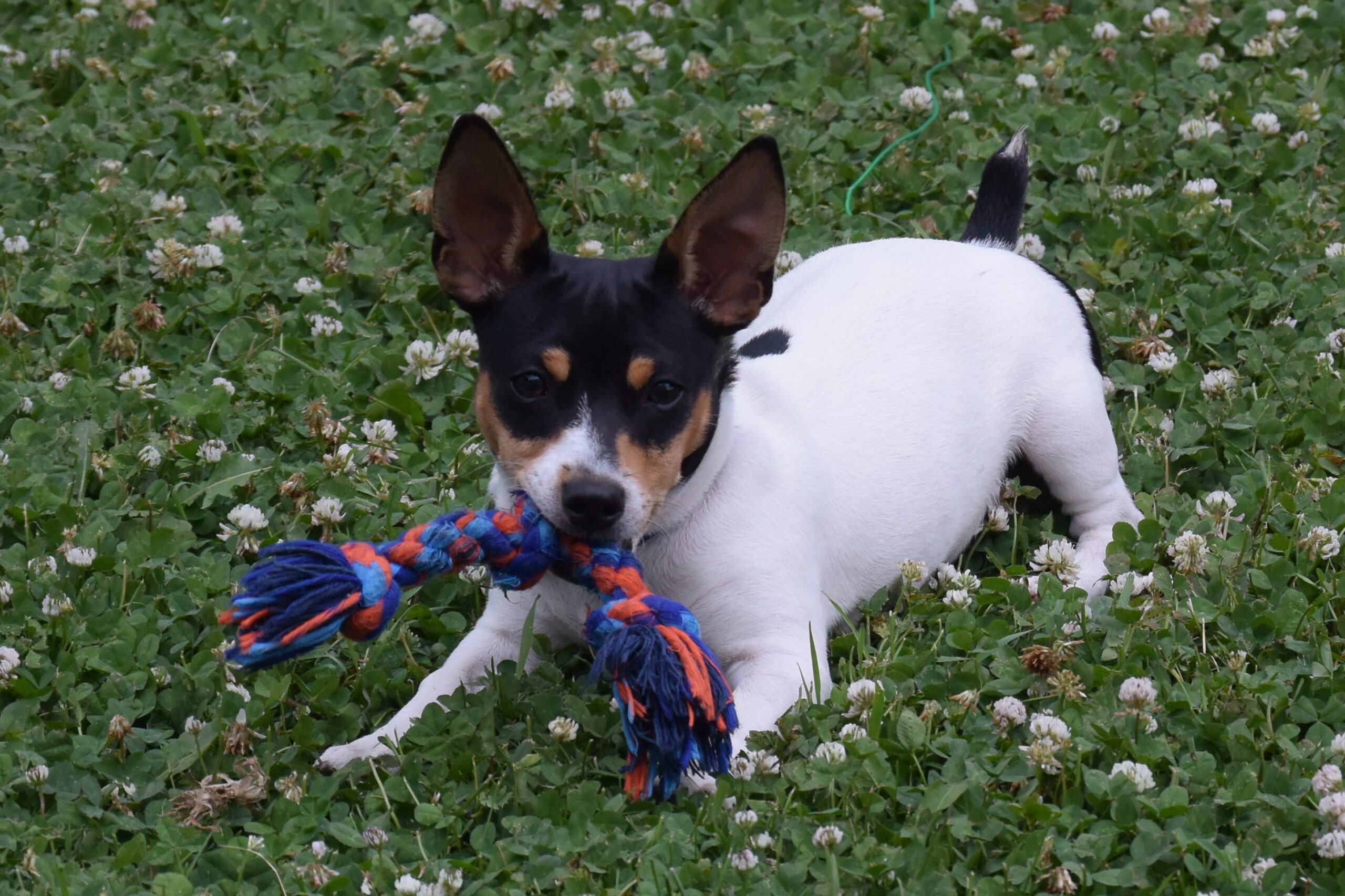 The name stayed with him. It fit him, at least as a pup.
Mickey soon showed his energetic side and kept Mom and Dad quite entertained. I'm not sure that Shad the Border Collie could have kept up with his antics. But he knew he was loved.
Mom was retired and although she bowled on several bowling teams, she stayed home most of the time. Dad still worked full-time. But Mickey had plenty of attention from both of them.
Could he really be the best dog for seniors?
Tragedy struck when Mickey was just over a year old. Mom had taken him to the vet for his annual shots and was driving home when her car was struck. She had to be air-lifted to the hospital. Dad rushed a bewildered Mickey home on his way to the hospital.
Severe injuries kept Mom in the hospital for six and a half weeks in ICU. Every day, she held his photo and smiled. Mickey was an essential part of her attempt at healing.
During that time, Mickey stayed at the house. Dad was either at work or at the hospital quite a bit, but he didn't forget his dear Mickey.
More tragedy for Mickey, too.
When a medical error took Mom's life, our family was crushed. Mickey seemed to understand that his Mom was not coming home. Dad became his solace. And he was Dad's comfort, too.
Since Dad worked full-time still, Mickey was alone much more than before. He managed, but it was obvious that he missed his daytime people.
About a year later, Dad retired. He had worked all of his life, from his childhood of helping his Dad in his business throughout the years. Dad certainly earned retirement by his mid 70's.
Mickey again proves to be the best dog for seniors.
Mickey was overjoyed to have Dad home with him most of the time. When Dad came to help on the farm, Mickey came with him. As Dad drove the tractor, Mickey ran along behind. When Dad was planting berries, Mickey ran with our farm dogs or sat by Dad.
By this time, he needed the exercise. With Dad home all the time, Mickey had put on some pounds. We tried to get Dad to feed him less. Tried, but failed.
Dad's stroke came suddenly. Fortunately, it was only a moderate stroke and Dad was able to make some steps toward recovery. I spent a lot of time with Dad after his stroke, helping him at his home. I usually took one of my own dogs with me and Mickey seemed to build a friendship with her, as well as me.
At least he was with us. There were people he really didn't like. Mickey had his own mind.
I wouldn't consider Mickey a therapy dog. More often than not, he got in the way of us helping Dad. I devised ways around it and we managed.
But he certainly was an emotional support dog. Dad and Mickey were a team, supporting one another.
When we decided that Dad needed a lift chair, we measured the seat size to make sure that Mickey could sit with Dad in his new chair. Mickey always sat on Dad's left side. Not on the right, always on the left. Just habit, I guess.
Dad was always quite tall and thin but Mickey had put on some weight. We found a chair that worked. Now, how would Mickey react to a chair moving?
It turns out, the movement caused him no issue at all. Maybe he actually liked it? Regardless, that chair became Dad and Mickey's favorite place to relax.
When symptoms worsen
When Dad's symptoms worsened and he decided to move with our family on the farm, Mickey adjusted quite well. In fact, I think he preferred farm life. With plenty of room to roam and the occasional chicken to scare away, Mickey kept active and happy.
But life throws its obstacles. Dad developed an infection and needed hospitalization. The one time that Mickey always feared was when Dad was going somewhere. We had to restrain him when we were taking Dad to doctor appointments. The trip to the hospital was the same story.
This time, Dad had to stay for treatment. How would Mickey manage?
Again, Mickey seemed to understand and accept. Of course, he was not alone. Our family and pets kept him company. I'm sure he missed Dad but he didn't seem to fret, thankfully.
Unfortunately, Dad did not recover this time. Our lives felt shattered once again. Then I remembered Mickey. How would he react to me coming home without Dad?
Mickey amazed us.
He seemed to accept that his buddy, his favorite person, was gone. How do dogs know and understand?
Now without either of his human parents, Mickey had gone through so much in those 10 years. But he seemed to accept it better than any of us humans. I'm still amazed at his manner of managing.
It's been about two and a half years since Dad passed. But Mickey's story continues. He is now a permanent member of our family. In his senior years, he has developed some health issues. The weight he put seemed glued there but we continue to keep him as active as possible.
While I may not have chosen him as the best dog for seniors, Mickey showed that he truly was. and now, in his senior years, we give him the care that my parents would have provided.
Mickey's story proves just how important these fur-friends are in our lives.
Pets can be an important part of your elderly loved one's life. You can read more in this article.
Dogs like Mickey make incredible Emotional Support Dogs or even Service Dogs for our elderly loved ones. Emotional Support Dogs require just basic training to be safe. Find more information on this article: Emotional Support Dogs.
W