==================
A Caveat and Affiliates
First off, a little caveat: within my articles you will find affiliate links, meaning if you buy them, I get a small commission. Your cost is not affected. In addition, I am an Amazon Associate and I earn from qualifying purchases on Amazon.
And yes, if I say that I recommend a product here, it means I truly believe it is a good product. I refuse to recommend any product that I have not researched and believe to be a good value.
Even better, I provide you with a very clear picture of the product, it's use, and the probable value.
Earning your trust is important to me. I run this website myself and the commissions and donations help support the site.
Sound reasonable and fair enough? Let's continue to the article.
==================
Best phone for hearing impaired seniors
Connecting by phone is essential in today's world. But our elderly loved ones find it difficult on basic phones. Choose the best phone for hearing impaired seniors to help them stay in touch with family and friends.
Do you find it difficult to communicate via phone? I mean, we can't see the individual to whom we are talking, and neither can we see their facial expressions. Plus, we can't understand how they're reacting to the conversation?
Now think and feel how difficult it will be when you have a hearing impairment, especially if you totally rely on various techniques such as lip-reading or sign language. Luckily, advancement in telecommunication has enabled the seniors to use phones for hearing-impaired more easily.
The phones for hearing-impaired seniors opens a world of conversation for the elders dealing with hearing loss. Staying connected to our loved ones is life for them and enhances their lives, especially for those elders who can't travel frequently.
In short, these are the devices that increase senior's happiness and quality of life. Having said, now we will discuss some of the best phones for hearing impaired seniors that will surely improve their lifestyle and make things easier for them.
Do you know?
According to the National Institute on Deafness and Other Communication Disorders: 
"One in every three individuals in the US between 65 and 74 (age) has hearing loss, and nearly half of them those above 75 years have difficulty in hearing."
And if you were thinking you are alone dealing with this issue, that's not true because almost 38.2 million Americans have some sort of hearing loss.
Things To Consider When Looking For The Best Phone For Hearing Impaired Seniors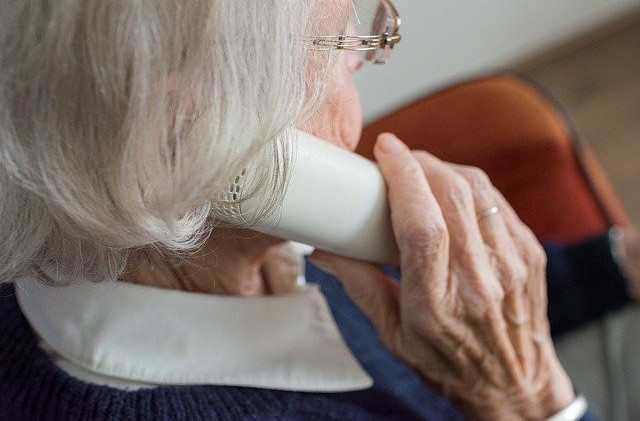 When it comes to the phones for people having hearing loss, choices are many, and sometimes it can be confusing to find the best one. Each brand claims it is the best and has the latest features etc., but you cannot trust every one of them.
Below we will explain some of the important features that one should look out for when buying the best phone for hearing-impaired seniors.
Amplification Level
For seniors having partial hearing loss, the Amplification level is the foremost factor to consider. Ensure that the amplification level must match the severity of your hearing loss.
Another important thing is some users need hearing impaired phones in noisy environments. So, if you are among those, look out for the amplification level as per your circumstances.
Outgoing Amplification
When you call in a noisy environment, it is difficult for you to listen to the others, but remember that the person on the other side also feels the same.
Outgoing amplification is helpful when you are calling someone who has a hearing problem. While this is common in most hearing impaired phones but confirm and verify about the feature in a particular phone that you are about to purchase. Further, outgoing amplification above 20 dB SPL is enough.
Which one to buy: Cordless or Corded
Usually, seniors like to use cordless phones as they move around while talking on the phone. Furthermore, both these variants are equally priced. There are no wiring hassles in the cordless phones. On the other hand, corded phones for hearing impaired seniors are also widely popular due to obvious reasons. To sum up, both are handy and serve the purpose well. Lastly, it comes down to your personal preferences.
Compatibility with Hearing Aid
If you are using a hearing aid device, you frequently notice a distortion when using a typical phone. Remember that most amplification phones do not feature the necessary technology to work with hearing aids.
However, nowadays, many phones work well with telecoil equipped hearing aids and cochlear implants. Before buying any, check the compatibility with your hearing aid.
Big Dialing Pads
Dialing numbers on the phone for many seniors with low vision or suffering from arthritis is difficult. Seniors having coordination issues have problems in using the standard-sized dialing pads. If you have any of these issues, look for the device that comes with large dialing buttons. Similarly, the pad's color and backlit features can help if you have low vision.
Answering Machine Feature
Many phones have the ability to record voice messages. Hearing-impaired phones for seniors also have this handy feature. Further, using this feature is too simple. When buying hearing impaired phones, check out the voice clarity and check reviews about the same.
Hands-Free Usage
Many seniors like to use phones that come with a speakerphone feature. Here we will advise you to check the output clarity. Besides, also check the speaker's incoming and outgoing voice. The voice should be free of distortion and static. You can read reviews from verified buyers about the same, along with other necessary details.
Product Reviews: Best phone for hearing impaired seniors
Now that you understand the vital considerations when buying a telephone for hearing impaired seniors; let's check out some devices that can help you overcome hearing issues.
All the products mentioned below are based on customer reviews and included after thorough research and analysis. Below you will find their detailed views along with the details of features and specs. Have a look: 
Here they are:
PANASONIC Amplified Cordless Phone with Digital Answering Machine
Future Call FC-1007 Picture Care Phone with 40dB
Hamilton CapTel 2400i Captioned Telephone Large Touch-Screen.
Clarity XLC3.4+ Speakerphone
iSoHo Corded Phone
CLEARSOUNDS CSC500
PANASONIC Amplified Cordless Phone with Digital Answering Machine
The PANASONIC KX-TGM450S is the high-end phone for hearing impaired seniors and our favorite pick. The device works well for users who have severe hearing loss.
Using this phone is simple, and its functions are also easy to use. You can increase the volume level up to 50 dB for all calls. You can also increase the ringer's volume up to 112 dB. It also features a noise reduction feature that suppresses all the surrounding noises.
Furthermore, you can also choose between six-voice tones for various voice types. The voice tone can be changed by pressing visible backlit buttons. The device features a large dialing pad, and it is backlit that allows you to make calls at night easily.
Another handy feature of this phone set is its white-backlit LCD, which flashes the numbers for all incoming calls. Apart from this handy alert, the phone set also features Panasonic's Talking Caller ID that enables you to view who is talking on the other side. Moreover, you can also configure a specific tone for individual contacts.
The Panasonic KX-TGM450S also comes with two backup batteries to keep it working during a power breakdown. The batteries are durable and work for up to 3 hours when you use it continuously and gives up to 4 hours on standby mode.
This set's other handy features are a talking digital keypad, call block feature, 100-number storage phonebook, speakerphone feature, intercom, and support for voice messaging.
Lastly, in the pack, you will also find some other accessories such as a compact AC adapter, connector cord, wall mount adaptor, and two rechargeable Ni-MH batteries.
Pros
The amplification level is up to 50.
Active noise reduction feature and loud ringer.
You can adjust the voice tone.
It comes with large-sized backlit buttons and a white LCD.
LED light alerts with clear visibility for incoming calls.
3-hour battery backup.
You can save up to 17 minutes of voice messages.
Cons
The unit is not compatible with older Panasonic sets.
A bit heavy.
You cannot mount the phone on the walls.
Future Call FC-1007 Picture Care Phone with 40dB
Next on our list is the Photo Key Amplified Phone. This phone for hard of hearing people features an amplification level of up to 40dB and has unique speed-dial-photograph buttons. The device is simple to use and suitable for those who have mild or moderate hearing loss.
Moreover, the phone is hearing aid compatible ad it works best for normal users and seniors with hearing and visual deficiencies. When setting up the phone, you can easily set 1-button or 2-button speed-dialing. The large-sized buttons can keep ten phone contacts on speed-dial with images. There is a separate button for 911 for emergency uses and a redial button.
The ringtone is louder, and it also features a handy visual ring indicator. This visual indicator is a bright red flashing light. It continuously flashes when you receive any incoming call. This visual indicator also comes in handy when you cannot hear that it is ringing, but you can see its indicators.
Lastly, using and setting this phone set is quick and straightforward. Even the elders can use it without any problem. All the stored numbers on the phone, even when it is unplugged.
Pros
The amplification level is up to 40 decibel.
Features speed-dial photograph dialing pad.
The device is compatible with the hearing aid device.
It comes with a handy visual ring indicator.
Cons
More expensive than the others in the same category.
As per some users, the mic is too sensitive.
The plastic design looks outdated.
Hamilton CapTel 2400i Captioned Telephone Large Touch-Screen.
Our next pick is the Hamilton CapTel 2400i that features a high amplification rating of up to 40db. These volume levels are suitable for hearing impaired seniors as well as for others. The unit is also suitable for people suffering from hearing loss.
Furthermore, it includes on-screen captions that are handy for the elders. You can connect it with your telephone service, and enjoy smooth internet access. The keypad is large and looks more like a traditional telephone keypad. However, there are some additional buttons.
The set also features dedicated volume control buttons that are simple to use, and you can quickly adjust the volume levels up to a 40 dB gain. Keep in mind that its volume will returns to a medium level every time you disconnect the line until you set your customized settings.
Moreover, the set includes a large caption button, which is effortless to use. There is also a home button, which is handy, especially for seniors. This home button allows you to return to the main screen when you are lost in the settings.
Lastly, you can also tilt its screen for a clear view and easy reading. And if you are planning to mount it on your wall, you can flatten its large screen. This Hamilton 2400i phone set for the hearing impaired also supports the Caller ID feature along with a built-in phone directory. It allows you to store and dial 95 numbers and names.
Pros
Captions will appear on both incoming and outgoing calls automatically.
The set is compatible with Wi-Fi.
You can also turn off the captions easily.
It comes with a built-in answering machine that can records voice messages and captions.
It features adjustable colors and font sizes.
You can tilt the phone's screen for comfortable reading.
All captioned are stored for future uses.
Cons
Captions will only work when you have internet access.
The phone's size is 17 inches long, which looks a bit bulky.
Not for Canadian users.
Clarity XLC3.4+ Speakerphone
The Clarity XLC3.4+ DECT 6.0 Speakerphone is compatible with hearing-aid and also compliant with TIA-1083 standards. So, if you have any hearing issues, this Clarity XLC3.4+ Speakerphone is the most reliable option on the market.
The phone features a higher amplification level of up to 50 dB. Moreover, you can set the outgoing call amplifier level up to 15 dB. This Clarity XLC3.4+ also allows you to adjust the ringer volume levels up to 95 dB. Due to this loud ringer, there is no chance that you will miss any incoming call.
Furthermore, the phone set also includes a Caller ID screen. With this Clarity XLC3.4 speakerphone, you will enjoy using its large-sized fonts and bright backlit display. You will also find a talking Caller ID in this speakerphone for hearing impaired seniors.
Besides, this Clarity XLC3.4+ speakerphone also allows you to customize settings and features as per your specific needs. For instance, you can adjust the ringtone settings and choose from 4 different melodies. Further, it features the latest DECT 6.0 technology that offers excellent voice quality while you are on a call.
The speakerphone's design and shape are sleek and straightforward, and it looks elegant. The white finishing is superb, and the inclusion of red LEDs further enhances its look and appearance. Lastly, the phone's base features a dedicated 'Find' button that helps you locate the headset if you are unable to find it.
Pros
It comes with a talking caller ID feature.
Its dialing pad is large.
Features 50 dB amplification on incoming calls.
Features 95 dB level amplification on ringtone.
Comes with large buttons with a backlit screen.
Includes DECT 6.0 technology for clear voice.
Cons
No answering machine.
Phone setup is complicated for first-time users.
iSoHo Corded Phone
Next, we have the most beautiful phone for seniors having hearing issues, the iSoHo Trimline Corded Phone. This handset is made exclusively for seniors who are dealing with hearing and vision impairment.
Moreover, the unit comes well-equipped with a backlit keypad and large-sized buttons and numbers for quick and easy dialing.
This Corded phone for hearing impaired seniors comes with a Targeted Voice Amplified microphone. It is a nice feature made to amplify the weak voice of elders. Moreover, this iSoHo Trimline Corded Phone features adjustable volume buttons up to three levels. The phone also features a loud ringer, which comes in handy for those who have low speech issues and hearing impairment.
We liked its elegant design. The phone's design looks like a 1965 Princess Phone. The device is light-weight and comfortable to carry and hold. The design is perfect to mount on the wall.
Lastly, it comes with an optional ringer with a strobe light that notifies you when there is an incoming call.
Pros
Comes with three different levels.
Perfect for elders having low speech or hearing impaired.
Light-weight design.
Extra-large dialing pad.
Comes with a phone mount.
Cons
The phone base looks flimsy.
No caller ID feature in this handset.
CLEARSOUNDS CSC500
The ClearSounds CSC500 is a landline set made for hearing impaired seniors, and it is extremely simple to use. The set features amplification levels up to 40dB. Moreover, this phone works well with hearing aids having telecoil and cochlear implants. This ClearSounds phone set complies with US Federal Communications Commission (FCC) for Hearing Aid Compatibility.
Besides, you can easily adjust the ringer volume up to 85dB. It is also simple for you to turn on the visual ringer alerts if you don't like loud sounds. The visual alert ringer flashes continuously on all incoming calls automatically.
Furthermore, you can also store contacts and phone numbers easily. The handy speed dial option is also handy and makes things easier for you.
With this CSC500, you can quickly assign the phone numbers to three one-touch memory buttons and eight photo frame buttons. You can also place the pics of your beloved on each speed dial key. You can save up to 32-digit numbers on photo-frame buttons. Similarly, if you don't like to use the handset, switch to the speaker, and enjoy hands-free calling. Voice quality is excellent on both handset and speaker.
Lastly, it also features a 2.5mm jack for headsets, and it can be mounted on the walls.
Pros
Features amplified sound level and powerful ringer.
Speed dial keys.
A 1-year warranty is useful.
Visual ringer alert.
You can mount it on a wall.
Compatible with hearing aids.
Cons
No caller ID features.
The cord is too short.
CONCLUSION
In the end, we hope that our guide will provide all the info regarding the phones for hearing impaired seniors, and now you understand what to look out for when buying the phone for hard hearing seniors.
Above, we have mentioned the best hearing impaired telephones for the elderly that you can get and talk to your beloved without any problem. These phones for seniors with hearing loss will amplify volume so that you can hear and talk without any problem.
Related articles…
Best TV speakers for hearing impaired
Tips for caring for elderly at home