==================
A Caveat and Affiliates
First off, a little caveat: within my articles you will find affiliate links, meaning if you buy them, I get a small commission. Your cost is not affected. In addition, I am an Amazon Associate and I earn from qualifying purchases on Amazon.
And yes, if I say that I recommend a product here, it means I truly believe it is a good product. I refuse to recommend any product that I have not researched and believe to be a good value.
Even better, I provide you with a very clear picture of the product, it's use, and the probable value.
Earning your trust is important to me. I run this website myself and the commissions and donations help support the site.
Sound reasonable and fair enough? Let's continue to the article.
==================
12 Best Elderly Bathing Aids for Safety and Comfort
Stepping in the shower before work or having a soothing soak are the activities we take for granted. However, simple tasks such as bathing can be challenging or even hazardous for individuals with mobility difficulties. You should look for elderly bathing aids to help your loved one bathe or shower securely, comfortably, and with dignity. Moreover, here are our top picks for the best elderly bathing aids.
Bathing aids for disabilities are essential devices for those with reduced strength or flexibility. Such products can help individuals preserve their independence and reduce the need for assistance. They make it easier to take care of your older adult's everyday needs and reduce the risk of falls. Moreover, help them stay as independent as possible.
Having the courage to perform personal activities like using the toilet or bathing safely improves your older adult's self-esteem and attitude. And better security means you're less concerned. So, we find ten easy and efficient elderly bathing aids that enhance bathroom protection.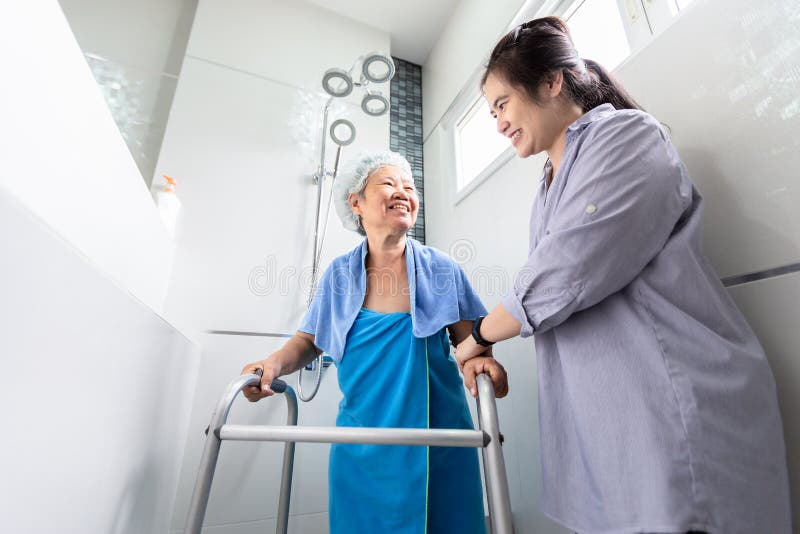 Top 12 Elderly Bathing Aids You Should Try
Bath and shower elderly bathing aids are ideal improvements to aged, disabled, and mobility-restricted bathrooms. They will improve the bathroom protection quickly and easily and allow these groups to retain their independence. While doing bathroom-related tasks, be it bathing, showering, or otherwise. Now have a look at some best elderly bathing aids.
First on our list of the best elderly bathing aids is the Folding Shower Bench. This bench provides a sturdy seat for elderly or physically challenged loved ones while in the shower. In fact, it boasts a weight limit of 400 pounds!
The teak wood seems warm and inviting, unlike its plastic or steel counterparts. The teak back offers even more comfort. And, when others need the shower, the bench folds neatly up against the back, providing more overall shower room.
While this seat may not be the cheapest, the strong, comfortable bench pays for itself in comfort and long-term usage. And the Moen name means high quality. Moen products rate highly and the company stands behind them with a good warranty.
 Bathtub Chair Elderly Bathing Aids
These chairs work so well in the tub or shower that I dedicated an entire article to them. You can see my top recommendations by clicking here. (this opens a new page)
There is a smaller seat for bathtub chairs than a bathtub bench, and all the legs live inside the tub. Some models of bath chairs have a large enough heart before entering the tub to allow your elderly to sit down on the side of the seat. You should lift one leg at a time over the bathtub wall until seated comfortably and turn your hips to face the showerhead.
A water-resistant chair, often made of plastic and metal, with a cushion and a backrest similar to a bathtub chair (also known as a tub seat, tub chair, or bath chair). This type of elderly bathing aids usually has a slip-resistant or suction cup to improve protection.
Sliding Swivel Bath Benches
A seat for a sliding swivel bath consists of a fixed frame and a moving chair. The majority of models have a chair that slides as well as swivels. Some designs have a seat that either slides or only swivels and are known as sliding bath seats and swivel bath seats, respectively.
There is a critical feature in common with all styles, whether the seat slides or swivel. They make it possible for you to reach and leave the tub from a sitting position, removing the need to step in and out.
The swivel bathtub bench is similar to the swivel bathtub chair that sits on the tub wall in specific ways. However, it has three distinct differences: it is free-standing, it has a height-adjustable seat, and it has legs outside the tub that sit on the floor.
My favorite among these benches is The Carousel Sliding Transfer Bench with Swivel Seat   
If your loved one needs a little extra assist, this bench is incredibly useful. Many elderly get a bit still when they are less able to move about. Using this bench, you can assist them in getting into and out of the shower without injury to you or them. I know first-hand how difficult it can be to help a loved one move about safely. The shower always scared me a bit, even though we used slip-free mats and grab bars. A transfer bench makes the job so much easier!
Another version that was suggested by nurses was the Platinum Health Bath and Shower Chair.
We didn't use this seat, but the nurses explained how beneficial this product was. Many hospitals and retirement homes use these because they are very safe and easy to use. A benefit was the padded seat, making the bath a bit more comfortable for the patient.
Swivel Bathtub Chairs Elderly Bathing Aid
Swivel bath seats are suitable for elderly, disabled, or limited movement users. Moreover, providing quicker, smoother, more convenient access to the bathroom. However, it has three distinct differences:
It is freestanding.
Change height easily with a height-adjustable seat.
It has legs outside the tub that sit on the floor.
Some bath chairs can be built with a portion of the seat that slides, swivels, or both. As if you were sitting on a regular chair, it can rotate to face the pools outside, allowing you to sit on it. The seat lets you slip back into the bathtub and turn to face the head of the shower.
There is a critical feature in common with all styles, whether the seat slides, swivels, or both. They make it possible for you to reach and leave the tub from a sitting position, removing the need to step in and out.
When you use a shower or don't need the transfer bench, consider the Platinum Health Revolution Pivoting Shower Chair.
When we moved from a bathtub to a shower, we needed a different type of chair. The standard tub or shower chair is helpful, but honestly after using the pivoting one with the padded seat, back, and arms, you will understand the difference. The chair sits securely in place as your loved one sits on the nicely padded seat. You can then rotate the seat to position him inside the bathing area and move it as needed to gently wash his back, too. It rotates a full 360°. This chair is amazing when used in the shower. I can't imagine going back to the standard plastic molded shower seat.
Air Inflatable Bath Lifts
Inflatable bath lifts fix the issue for those who find it challenging to raise and lower bath time. However, when using their regular bath, they want to preserve their dignity and protection.
This battery-power-type bath lift performs all the lifting. An air-inflatable lift cushion deflates slowly at the push of a button, dropping you to the bottom of the bathtub within a few centimeters and re-inflating at the push of a button brings you back up again.
The significant advantage of an inflatable cushion over a more conventional motorized bath lift is that users can completely immerse themselves in the bathtub when the pillow deflated so that they can lay down and enjoy a nice soak. Bath cushions are lightweight, so they can be used elsewhere and can conveniently be taken on holiday or used in other bathrooms, making them very versatile.
Less expensive than a walk-in bathtub, the Mangar Bathing cushion allows the less agile senior to take an actual bath, rather than using a shower chair. Many find this quite relaxing and enjoyable.
Battery-Powered Bath Chair Lifts
This type of bath lift is operated by a battery, as the name suggests, and it resembles a chair—the ride designed to drop you down into the warm bath water with the push of a button. However, bring you back up again with another push of a button. Somewhere between 4-20 lifts, most battery-powered bath lifts can perform until having to be recharged. Recharging can be achieved by detaching the battery from the charge and connecting it to a battery charger.
For a person of average height who cannot get up and down from the bathtub floor independently, this type of bath lift can work well. Moreover, he also has enough balancing skills to sit on and stand up from the seat safely. Many versions intend to match the width of standard-sized bathtubs easily. Some bath lifts are designed for use in more enormous bathtubs with whirlpool style.
Ceiling Lifts
Many ceiling lifts are meant to help users travel down to the tub's bottom and back up again. So, they cannot intend to allow a user to move sideways across the tub wall. To direct the sling over the tub wall, most users will need the assistance of a caregiver. But some users may be able to raise themselves over the tub wall by grabbing a grab bar attached to a nearby wall (while suspended in the sling).
Most models are intended for use with a durable cloth sling that protects the body of the user. Some designs have a unique support system of stainless steel. However, pads that grip the user on either side of the rib cage and support the user's thighs. Both styles allow a user to lower to the pool's bottom for a completely submerged bathing experience.
Here is the link: https://www.amazon.com/s?k=Ceiling+Lifts+bathing&ref=nb_sb_noss
Grab Rails
Bath Grab Rails are a great addition to any bathroom as they provide extra support, balance, and coordination. However, particularly to encourage independence and peace of mind who impaired by losing balance or the elderly. These rails are the best elderly bathing aids.
You will find our Bath Grab Rails an intuitive addition, simple to suit and in-step with your décor theme, coming in modern designs with sleek lines and easy to keep hygienically clean. We also have several different plans and setups for your personal needs and the layout of your bathroom.
Considerations should include the strength of the grip, the quality of the material they have made, and how much weight they can carry to select the right bathtub rails. Most bathtub rails protect the elderly, children, and disabled safely and out of the bathtub.
With a locking mechanism and latch on the tub's side, the most common type of bathtub rails can keep in place. These rail styles come in several shapes and sizes, and some of them are flexible. If the rails are not adjustable, make sure to choose a design size that suits the person using it.
Here is the link: https://www.amazon.com/s?k=Grab+rails&ref=nb_sb_noss_2
The Shower Commode Bathing Stool
The shower Commode Bathing Stool features a unique design for bathing/showering and an elevated toilet seat. The lightweight stool is height adjustable, providing a more comfortable and secure environment for each user. The stable seating surface can pad with a foam of high density that offers unparalleled relief of pressure.
The Bathing Stool for the Shower Commode is 350 lb. While still being lightweight and easy to travel around the home or care center, weight capacity. The stool does not need tools to disassemble the legs or change the height, making it perfect for traveling.
As the stool can sit on from either side, the seat's open perineal region offers cleaning access. By positioning it over a toilet, the chair may also use as a raised toilet seat. The top supports and contours of the backside are cushioned by the Insolate, minimizing friction.
Here is the link: https://www.amazon.com/s?k=Shower+Commode+Bathing+Stool&ref=nb_sb_noss
 Water Power Bath Lifts
Water-powered bath lifts control a lever that controls a water valve. No wonder this is one of the best elderly bathing aid. This lever can order as necessary on the right or left side of the bath lift. When the lever push in one direction, the seat raise by water pressure. Moreover, and the user relocates to the top of the tub. Water pressure is released from the lift as the lever push in the opposite direction. Moreover, enabling the user to lower the charge to the bottom.
The lifting hook into the building's water supply since the Aquatec Standard is water-powered. A tub spout with a diverter can be built-in, or a diverter valve used in combination with the showerhead can be done.
Here is the link: https://www.amazon.com/s?k=Water+power+bath+lifts&ref=nb_sb_noss
Walk-in Showers
Finally on our list of the best elderly bathing aid is Walk In Shower. As it becomes increasingly more challenging to use a bath, many people opt for a walk-in shower. Moreover, or a separate shower cubicle to replace the tub, which can be more convenient for daily washing and less time-consuming.
Walk-in showers are showering that you could theoretically move on without a jump. For most individuals with mobility problems, this is the safest choice. These also come with drainage pumps and floors sloped or ramped to minimize the water leaking into the bathroom's rest through the shower doors.
If leakage is a significant concern, a low-level access shower may also operate with a minimum cubicle entrance height of about 1 cm.  However, overall the best elderly bathing aids for your grandparents.
Here is the link: https://www.amazon.com/s?k=Walk-in+showers&ref=nb_sb_noss
Conclusion
Bathroom modifications for the elderly, large and small, will make such a difference to our older parents' quality of life. Elderly bathing aids help to get in and out of the bath to the right shower aids, we discuss all here. We provided you with the best elderly bathing aids that would surely guarantee safety and comfort.
These elderly bathing aids can make your loved ones feel more independent and comfortable at home and give you peace of mind when caring for elderly parents.
Read More