==================
A Caveat and Affiliates
First off, a little caveat: within my articles you will find affiliate links, meaning if you buy them, I get a small commission. Your cost is not affected. In addition, I am an Amazon Associate and I earn from qualifying purchases on Amazon.
And yes, if I say that I recommend a product here, it means I truly believe it is a good product. I refuse to recommend any product that I have not researched and believe to be a good value.
Even better, I provide you with a very clear picture of the product, it's use, and the probable value.
Earning your trust is important to me. I run this website myself and the commissions and donations help support the site.
Sound reasonable and fair enough? Let's continue to the article.
==================
CARING FOR BEDRIDDEN ELDERLY AT HOME
Caring for a bedridden elderly person can be a daunting task. However, with the right knowledge and tools, it can be a lot easier than you think. In this blog post, we will discuss the basics of caring for someone who is unable to get out of bed. We will cover everything from bathing and feeding to changing diapers and providing emotional support. By following these tips, you can help make your loved one's life more comfortable and stress-free. Thanks for reading!
When our loved one is limited to only a bed, they will need help in their daily life happenings. If you must take be caring for your bedridden elderly at home, then we must agree that it can be challenging for us to provide for all their needs all the time. If you're taking care, you need to know the essentials. Still, you'll also need to distinguish when to ask for assistance from external sources, such as helpers, family members, and qualified organizations. Whether you're just overseeing or undertaking the caring yourself, you also need to be sure that you stay healthy, both physically and emotionally.
Challenging, but also rewarding
Yes, caring for a bedridden elder often proves one of the most challenging, trying circumstances a domestic caregiver faces. Remember, You are only as happy and comfortable at this point as they are. The "But they are so stubborn, they do not seem to appreciate anything I do for them" attitude is not going to help at all. So, keep in mind that the patient didn't want to be in that position. They are even more stressed and frustrated than you are.
If you do it accurately, it does seem easier.
In this article, we will discuss how to take care of a bedridden patient.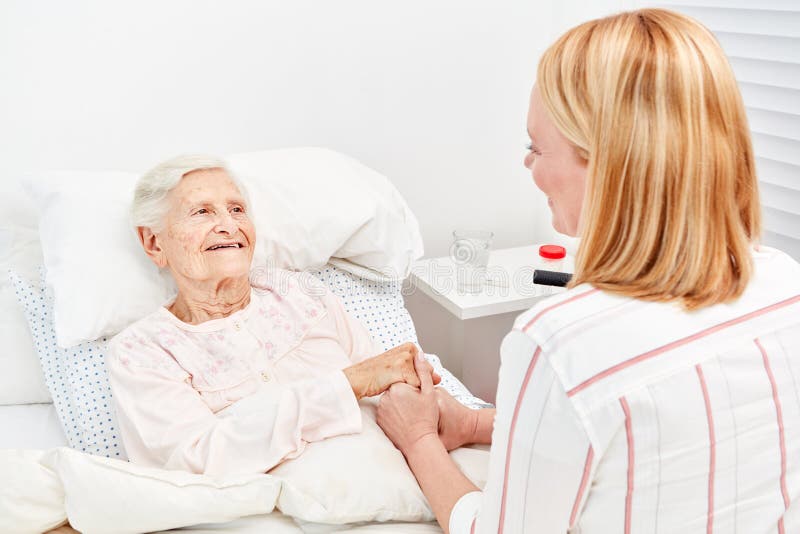 Caring for Bedridden Elderly at home at a Glance
In this section, we will discuss it in simple terms before discussing thoroughly how to take care of a patient limited to bed. Care for a bedridden patient involves many aspects of life, such as hygiene, which we take for granted in our lives.
Following are some of the things that one should take care of.
Ensure good hygiene
Bedridden elder people always need assistance regarding their dental care and bathing. Moreover, trimming their nails and well-groomed hair will help make sure that they don't scratch themselves unknowingly and reduce the swarms of lice, bedbugs, and other parasites.
Hygienic care of bedridden patients will also help in boosting their self-esteem.
Make sure you are serving them, cutting their nails habitually. They will probably help with their toes if they don't require it with their fingernail. You'll also want to help the patient trim his beard. An electric shaver works well for this purpose, especially if you've not ever clean-shaven anyone else.
Cleaning their teeth after every meal
For taking a shower,
You may be able to help your patient into a bathing chair (or use a wheelchair), where they can generally wash with a little direction. While on the other hand, they may require a scrub bath.
If your patient is wholly bound to the bed and can't move into the house, you will have to bring things to them. Such as getting your elderly loved ones wet towels, a toothbrush, a cup of clean water, and maybe a spitting cup. Let the person brush their teeth on their own. Or help them keep their teeth clean by asking them to open their mouth cleaning them yourself.
Regularly check their sheets
They must be made of cotton or silk. Make sure to smooth them out before letting your patient lay on them. Wrinkled sheets increase the chances of bedsores for sure.
Promote good nutrition
Talk to the patient's dietitian or medical care provider to ensure the patient is on a good and healthy diet. Ensure the patient's eating habits are kept to refer to the patient's eating habits after eating a specific food type.
Fulfill their need for nutrients. Some patients might want to eat small snacks throughout the day rather than eating a full meal. Additionally, keep zero-sugar drinks and water at their bedside so they can drink whenever they want. For example, if your patient has swallowing issues, you will want to cut his diet into small pieces, crush it, or find other ways to increase his diet like nutrient-rich drinks or maybe healthy shakes.
Try to keep them comfortable and entertained to refresh their mind
Bedridden patients not only need assistance in bathing and food. You should also make sure they have entertainment of the kind they like in hand. Give those newspapers, magazines, books, and television remotely on their nightstand for their ease of access.
Arrange for air fresheners and keep their bedsheets and clothes cleaned regularly.
Please give them a good massage on their shoulders and back to increase their blood movement.
Emotional Support
Emotional support is vital for somebody who's bedridden, so find ways to have your patient contented and amused. For tech-savvy persons, an iPad or a laptop can work great to keep them busy. Bring out some old pictures and spend time pondering unforgettable memoirs, like family holidays or other events from when you were a kid. Remember always to let the patient see how considerably he's loved and respected!
Go it alone when caring for bedridden elderly at home?
Medical issues often challenges or nearly destroys one's life, both emotionally and physically. When a patient is bedbound, he/she cannot do the things that they used to. For example, people visit their loved ones, friends, and family, go on vacations, etcetera.
So, make sure to encourage their favorite people to visit the patient regularly to have regular interactions and speedy recovery.
Also, encourage the patient to try still to do what they liked to do to have them engaged. For example, if they used to participate in making art, playing indoor games, etcetera. Bring them a small set of art instruments and a table that they can use in bed. Or bring and play with them their favorite indoor games, be it chess, Ludo, video games, or whatever.
It is necessary to provide them with a little space to talk about what's going on in their lives. They always need a sounding board the same as you do. You can be their first person to talk to for such a purpose. But make sure that the patient is always confident and feels comfortable when speaking to others. With you being their only support can result in a lot more pressure while you already have so much on you.
If the patient is elderly, try to hop into your patient's world. For instance, don't reason them about the nature of truth. If you challenge your aged patients about their wrong beliefs, they might become disturbed.
Getting Help for caring for bedridden elderly at home:
Most of the time, bedbound persons need a social worker to help them with their needs. A social worker can help you, too, as they can assist you in finding the care you need for your patient, as well as other resources.
Most clinics have social administrations on location; however, you can likewise visit a Medicare/Medicaid office in your nearby local area or visit the workplaces of an insurance agency that your parent experiences.
Request help from friends and family:
You can feel alone in situations when your beloved is ill. In some instances, your friends and family can help you out, but they don't know-how. Therefore, try to meet your friends and family and ask one of them for help if needed.
It is compulsory to be bold when asking for help from friends and family. You should say, "I'm making a schedule for my (whoever is your patient to you)'s caregiving, please let me know if you're down for that in this week," to straight-forwardly and politely ask for assistance.
Give them a precisely simple task if they don't know what and how to do healthcare.
Or even if they still don't come to know these things, and you have kids at your home to care for, ask them to at least take care of the children one evening per week while you be in the hospital.
But keeping in mind the children's little sensitive thought process, be sure to tell them why you need a caretaker for them.
Let the professionals help:
If your loved one has become bedbound, then you will have to consult professional nurses for help. You can also ask for help from the people who visit your house if you care for your patient at home. Sometimes, a patient needs long-term intensive care, and if that happens, you will have to shift them to a hospital or a Medicare center for better treatment and care. That is because hospice care gives better results for dealing with terminal ailments, and it also gives you as a caretaker some relief from your responsibilities. Be prepared because in-home care and care facilities can both be expensive.
Certain things can provide you with some benefits regarding paying your bills at least of in-home care such as insurance and Medicare. Try to talk to the patients about financial help. It can be challenging to talk about it because some people are always hesitant about taking help from outside. If you need help in convincing them, ask for help from a person who has been through this situation to relate to each other's conditions. It may also be hard for your beloved one to hear about it from you. Therefore, you should seek help from someone who has some other relationship with him/her, such as their extended family members, cousins, maybe their spiritual leaders, or their close friends.
There are types of caregivers. You can hire someone who can help with basic daily life needs, such as some non-medical care like bathroom support and food intake. However, you can hire nurses for aid if you need to take good care of your patient's medical health. It is generally prescribed by the doctor, though.
Take Good Care of Yourself:
You won't be much good to a debilitated loved one if you also don't take care of yourself. Stay restored by exercising, right food intake, sleeping sufficient, not abusing liquor or medications, and getting a yearly physical. A bedbound elderly needs continuous attention, so consider dividing the responsibilities in shifts with other family members. Also, consider taking a break every month or so, like going on a holiday trip with your significant other or best friend.
No matter how hard you try, the patient's state is going to get shoddier. As a result, avoid caregiver regret by concentrating on insignificant successes when they occur, like getting him to eat all his diet or out of bed for some time.
Another way to take a needed break when caring for bedridden elderly at home:
consider employing a lull caregiver from a certified home care agency close by.
Acknowledge your emotions. If your elderly loved ones are ill or in pain, you may need a shoulder to handle those mental sufferings, which is perfectly normal for everyone. Also, you may find you feel anger or rage. Moreover, you might feel embarrassed that you can't devote more time to them or that they're bedbound and you're not. In addition, you also may feel worried about the circumstances. Sorrow is also common, as you will miss who your patient was.
Feel those emotions. Let yourself acknowledge those feelings. And make sure that you find someone with whom you share everything and talk to them to release that extra burden of stress and pain. If he/she is a sympathetic person, that will work. As a good measure, keep a journal because writing about your feelings is another right way to express or to get them out.
Remember to keep telling yourself that you're doing as much as you can, and it is very good. Because sometimes, you can have a guilty feeling that you are not doing enough for your elderly loved ones. Please focus on the importance of what you are doing, according to your patient, for instance, feeding patients or bathing them. You can tell immediately how much vital these two things are for the patient.
It would be best if you also tried to talk to other people in the same condition, or even join the local community groups. It will help you get ideas and useful techniques to know because this is a matter of life and you cannot be careless. If your patient is in the hospital, then you can also join the grief support organizations. Knowing that you are not alone is generous support and helps keep yourself motivated and strong.
Professional counseling is another generous support if your patient has a fatal ailment. A professional will help you deal with those feelings and understand terms with that what's happening.
Ask questions about caring for bedridden elderly at home
If your patient's health is getting worse day by day, you should know that having some answers can make the diagnosis more controllable. Only ask the doctors questions first and secondly the nurses if you have any regarding your patient's health. DO NOT SEEK ANSWERS FROM ANYONE ELSE RATHER THAN DOCTORS OR PARAMEDICS. It is expected that you may not understand their answers but ask them to answer again in a layperson's terms. You have all rights to know what's going on (with your patient's permission, of course).
You must take good notes or another person to help you remember everything, the doctor or the nurses say. During these situations, a person's emotions are generally high, making it difficult to remember everything.
 Take care of your spiritual needs:
Give yourself some time every day (if possible) to fulfill your spiritual needs. There are certain types of things people do for their spiritual self, like praying or meditating. Not everyone considers himself a spiritual person, of course, which might be the case with you. But do know that spiritual exercises work well in relieving all the stress and have a calming effect in those hectic and tense situations. Nonetheless, it would help if you still were or sit in complete silence for a few minutes because it helps a lot more than you can think.
Enjoy what you can while caring for bedridden elderly at home
It's imperative to take some time and enjoy yourself if you can. Because when you are taking care of a bedridden patient, it is tough to get some spare time to enjoy. It can be something trivial, like drawing a little portrait or seeing the birds outside. No matter how bad life is, do take some time for yourself and go out and have fun.
Also, it's vital to sustain the affairs in your life. Try to go away to devote time to people you care about, so you can just be yourself for a while.
At the very least, it is also imperative to respond to calls, replying to text messages, or checking in with your family and friends.
Affordable In-Home Respite Care for Bed Bound Seniors
As we all know that taking care of a bedridden patient is a tough job in itself, and the caregiver might also have fatigue. When you need a vacation from taking care, count on a lull caregiver from a trusted and certified service provider. These completely certified, cautiously screened, and highly qualified caregivers take good care of the patients that they need while helping as extended family participants in their homes. If your elderly requires continuous nursing to keep them safe and relaxed, they also propose 24-hour facilities that'll bring back your peace of mind.
Whereas in the home, these nurses can also take care of the duties like light housekeeping, personal hygiene, Give Company to the patient, medication notices, meals, and conveyances. Even you can tailor all their family trusted services individually at affordable charges, and whenever and wherever you need them, they'll be there is a bonus for you.
If your patient has a fatal ailment, nursing home care may offer temporary relief.
In-home care and care-providing facilities can be expensive. To cover this expense, healthcare insurance and Medicare can be proved to be helpful because it also includes in-home care costs.
Try to get some help, but also bear in mind that some people may be hesitant to take outsider help. If you need help in convincing them, try to get help from someone who has been through this situation for use. The patient might feel a bit hard to hear this from you if he/she is very close and beloved to you. Try to get someone else having other relationships with the patient on board so they don't get it wrong.
Another person can be a close friend, a spiritual leader, or a cousin of the patient.
Preventing Bedsores when caring for bedridden elderly at home
Taking care of the patient at home, check for injuries to their skin or the tissues under the skin. Sitting or lying in one position for too long can cause such issues to the patient. You must make sure that patient changes his/her sitting or lying place every few hours to avoid these injuries, which can further lead to severe problems. In the worst-case scenario, these wounds can become infected and result in complications or even shortened lives.
Following are some advice to avoid bedsores easily:
If the patient can move on his/her own, then encourage them to reposition themselves. Also, make sure to involve them in physical exercise if possible.
Consult the doctor about repositioning the patient without causing harm to their body.
You can also use special-purpose mattresses and pillows that can help release the burden.
Maintain their skin to be clean and dry.
Place pillows between their knees and ankles because these areas of the body press against each other.
Bedsores mostly appear on ankles, heels, hips, and tailbones. So do check them frequently.
Moisturize your patient's skin frequently. Also, try not to use aromatic soaps and talcum powder because it will dry out the patient's skin. And dry skin leads your patient to bedsores.
You can also ensure that the patient is taking in at least two liters of water or liquid energetic food.
We generally see blue or purple patches on the darker-skinned people while red or white patches on the fair-skinned people. Cracks, wrinkles, swelling, shiny areas, swellings, and dehydrated parts of our skin also symbolize bed blisters. Immediately consult with the patient's caregiver right when you start noticing it.
Look for signs of chest problems:
If the patient is lying on the bed regularly for long periods, liquids can form in their lungs and cause congestions or even pneumonia. Repositioning or at least rotating your patient to a new position every two hours, preferably, will help you avoid this.
Changing Diapers:
The most common responsibility is changing their diapers when taking care of the bedridden Elderly at home. Make sure to wear clean disposable medical gloves and have a plastic grocery bag, pre-moistened wipes, a clean diaper, and diaper rash cream on hand.
Below are step-by-step instructions:
If the patient is wearing pants, do not just roll them down to the ankles instead of completely removing them.
Peek inside their diaper after rolling the patient onto the other side for urine and bowel movements.
Fix the diaper's sides, open it, and overlap it down to contain the filthy region.
Use wipes to clean the area. You may need to lift the legs to reach the entire area. Apply a good moisture barrier ointment if needed.
Remove the diaper. You will have to roll the patient onto their side to do so.
Lay a clean and open diaper behind them and ask them to roll into it easily.
Pull up the diaper's front side through their legs and attach the front of the diaper and its sides.
And lastly, put all wipes and used diapers in a plastic grocery bag and then dispose of them properly.
Wrapping Up
We are confident that our tips on taking care of a bedbound patient will aid your understanding of becoming more pleasing.
Keeping up a bedbound loved one can become a solitary path occasionally. Know that requesting expert help does not in any way mean that you don't care for your loved one. It can be helpful to you and your patient's caregiver if you also help him/her serve the patient. It is also a sweet, emotional gesture to the patient. That even when you have a nurse for their take care, you still want to take care of them on your own. And don't want to leave them to someone else.
Stay close when caring for bedridden elderly at home
Additionally, suppose you can hire a full-time nurse for caregiving. In that case, you should go for that despite your emotional attachments with the patient because it will help you a lot and train you with that professional's help.
What if you can't pay for all this? Search for free care groups and follow the instruction of caregivers who provide you with free guidance. Also, be in touch with the medics for any other information you might need to know.
Please do not forget to take breaks and maintain your mental health at best because if you are not well, the patient will absorb the same negative energy from you. And according to psychological doctors, it is true, and they have scientifically proven every aspect and busted all of the myths with their advanced research on this topic.
If you like this article makes sure to share it with your family and friends.
Have a great time. Thank you so much.
Read More: