==================
A Caveat and Affiliates
First off, a little caveat: within my articles you will find affiliate links, meaning if you buy them, I get a small commission. Your cost is not affected. In addition, I am an Amazon Associate and I earn from qualifying purchases on Amazon.
And yes, if I say that I recommend a product here, it means I truly believe it is a good product. I refuse to recommend any product that I have not researched and believe to be a good value.
Even better, I provide you with a very clear picture of the product, it's use, and the probable value.
Earning your trust is important to me. I run this website myself and the commissions and donations help support the site.
Sound reasonable and fair enough? Let's continue to the article.
==================
How to Help Someone with Alzheimer's Remember
An Alzheimer's diagnosis requires some changes in the lives of the caregivers and the patient, alike. Knowing how to help someone with Alzheimer's remember people, places, and events proves challenging.  Caring for someone with Alzheimer's disease may feel like a never-ending cycle of sadness. Day by day, you see your loved one's memory fade and abilities deteriorate. Alzheimer's causes people to alter and act in unexpected ways, which may be uncomfortable or distressing.
These shifts may cause caregivers and patients an emotional wallop of uncertainty, irritation, and despair. As the illness progresses through the phases, your loved one's requirements will grow, you're caring and financial duties will become more complex.
In this post, I'll try to explain what Alzheimer's disease is and provide tips on how to help someone with Alzheimer's. Let's get started!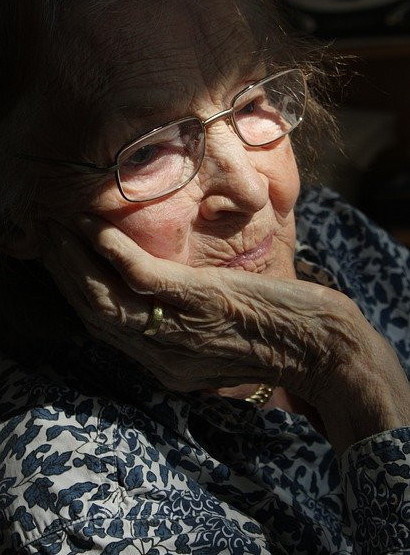 What Is Alzheimer's disease?
Alzheimer's disease is the most dominant kind of dementia, a set of brain illnesses. Alzheimer's disease, like other dementias, worsens with time, and there is currently no treatment.
It damages brain cells, resulting in memory, thinking, and behavioral impairments that may be severe enough to interfere with employment, lifetime interests, and social life. Furthermore, it may eventually impair one's capacity to carry out everyday tasks.
How to Help Someone with Alzheimer's
A few things must learn before I go into the specifics of how to help someone with Alzheimer's. There is a lot of affection, love, respect, and patience involved in dealing with aging parents.
In addition to age differences, there are many more reasons for disagreement. Therefore, the first thing you should do as a caregiver is keeping yourself calm and have positive body language.
1. Maintain a Routine
People with Alzheimer's have difficulty figuring out what to accomplish each day. They also tend to stick to routines, locations, and things they know well.
On the other hand, routines aid individuals in focusing on the things that are important to them. As a result, they will feel less frustrated and more positive.
Think about the following while creating a daily schedule for the person you're caring for:
Their preferences and dislikes.
Their daily routines in the past
Set regular wake-up and sleep times: Don't allow them to nap often or for lengthy amounts of time.
Keep pictures of loved ones all over the house to help them feel at home. These are the ways to help them feel more comfortable and connected with others.
2. Make It Easier to Communicate  – often the key to how to help someone with Alzheimer's remember     
People with Alzheimer's disease have difficulty remembering things, making it challenging to communicate. Some people may have trouble finding the right words to express their thoughts. However, it's understandable if you're irritated and wish they'd say what they want.
The first step is comprehending that the sickness alters one's communication ability. The second stage is to experiment with a few communication-enhancing techniques below:
Look at the individual and say their name.
Be mindful of your voice volume, facial expressions, and body language while conversing with others.
For as long as feasible, encourage a two-way dialogue.
Don't only rely on talking; use nonverbal means like soft touching.
3. Regular Exercise
People with dementia and those who accompany them will benefit from exercising together. Endorphins, which are released from exercise, may increase emotions of well-being and reduce sensations of tension and irritation.
Both of you will feel better and relax more due to this. Moreover, regular exercise benefits increased energy levels and a good night's sleep.
4. Daily Walk  
Try to get the individual with Alzheimer's disease to participate in a regular fitness regimen. Walking outdoors with them may be stimulating.
Regular exercise may help her burn off excess energy and improve her sleep. A brief stroll to a nearby nice restaurant, or even a visit to the mailbox, might be helpful too.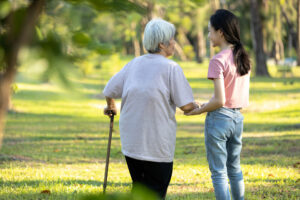 5. Be Patient
The most significant thing to keep in mind is that always be patient. Alzheimer's agitation may be worsened by memory loss and difficulty communicating with a loved one. Your job is to alleviate the mental and emotional stress they're suffering.
Even if you're overburdened, hurrying the person for whom you offer care won't help. Both of you are likely to get agitated due to this conversation. So, always keep yourself calm and compose.
6. Involve other people and activities
Although Alzheimer's patients often rely on routine, sometimes you might try to involve other people and even other activities. The caregiver usually is more aware of how to help someone with Alzheimer's remember and interact. However, an occasional shift in people and activities might prove helpful, too.
Do something fun together like going on a stroll and playing a game of cards. Invite other people (paid employees, family members, or volunteers) to join you. If you are a single caretaker, you may find it difficult to delegate and rely on others.
Nonetheless, they may provide a fresh perspective that the person would appreciate. You may not have the stamina to spend "quality time" with the individual if you are weary and anxious as a full-time caretaker.
7. Hire Professional Caregiver (sometimes)
Taking care of one's elderly relatives is a duty that will never go away, but it's crucial to recognize your limits while doing so. Don't hesitate to seek expert aid if your elderly parents need it. Even if you have the time to care for your aging parents, hiring a professional caregiver is the best option.
8. Build a Safe Atmosphere
Maintaining the safety of a patient at home is an absolute need while providing care for someone with Alzheimer's. Crea******te a secure space for your parent if they've moved in with you.
If you're concerned about the safety of your parents' home, you can:
Dispose of debris and trip hazards such as carpets to make the area safer to walk in.
Repair or adjust stair railings and bathroom railings.
Make a bedroom for them downstairs, so they don't have to go up and down.
Ensure enough lighting in all rooms.
Additionally, if your parent's Alzheimer's worsens, it is critical to keep an eye on their status and make necessary adjustments.
To Summarize, How to help someone with Alzheimer's remember
The tips we've provided help you to find ways to lessen the impact of this difficult disease. While currently, our medical community knows no cure, slowing the progression is possible in many cases.
Don't be frustrated by the difficulty of caring for an older person with Alzheimer's disease. It's a disease and not their fault. Additionally, Remember to take a breather when things become difficult. Moreover, rejoice whenever you succeed in achieving a goal. Remember that being nice and patient is always a good idea, regardless of the situation.
Read More