==================
A Caveat and Affiliates
First off, a little caveat: within my articles you will find affiliate links, meaning if you buy them, I get a small commission. Your cost is not affected. In addition, I am an Amazon Associate and I earn from qualifying purchases on Amazon.
And yes, if I say that I recommend a product here, it means I truly believe it is a good product. I refuse to recommend any product that I have not researched and believe to be a good value.
Even better, I provide you with a very clear picture of the product, it's use, and the probable value.
Earning your trust is important to me. I run this website myself and the commissions and donations help support the site.
Sound reasonable and fair enough? Let's continue to the article.
==================
Making Thanksgiving with Elderly Parents Special
Thanksgiving is one of the best holidays to be able to spend time with your parents. However, thinking of Thanksgiving activities for seniors might be a bit difficult considering all the preparations for the day. That is why I prepared this article that provides fun and exciting activities for Thanksgiving with elderly parents and the rest of the family. I also included some tips that will make Thanksgiving more special for your family.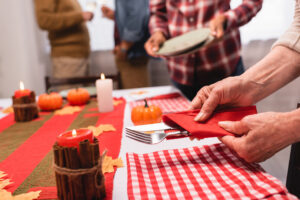 Thanksgiving and Family
Thanksgiving has and will always be known as a cornerstone family event every year. Family, relatives and even friends get together to bond and share a meal or two. However, sometimes spending thanksgiving with elderly parents might become difficult if you aren't fully prepared.
Special Senior Care
Seniors need special care due to their advanced age. Not only do you need to watch the food you prepare but more importantly the activities that you plan for the day. You can't have your elderly parents waiting by the sidelines while the rest of the family spend the day in very energy intensive activities. Less exciting or dynamic activities would make Thanksgiving boring for the rest of the family members as well.
Make Thanksgiving better
I have compiled a few things to note or tips that will definitely make Thanksgiving more special for your family. It will include points that people often overlook or neglect since they seem very obvious. Thanksgiving with elderly parents will definitely require proper planning and execution. Here are some of the things that I think will make Thanksgiving with elderly parents better.
People often bench or separate elderly parents when planning for Thanksgiving activities. Usually, they do this because they never consider the fact that their seniors would actually want to participate. However, being excluded or not included has and will always make anyone feel bad.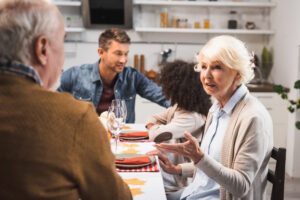 Conversation topics during Thanksgiving usually revolve around personal circumstances. Usually, people often neglect or disregard the elderly in these conversations. You need to keep in mind that stories that they've told for an uncountable number of times represent tradition for a lot of families. Besides, the lessons they can impart to your children are priceless.
Thanksgiving will also often be a test of patience and attention. In order to make Thanksgiving with elderly parents better, you need make sure you dial up your patience and attentiveness. Going the extra mile in caring will always be appreciated.
Lastly, communication is the key to any wonderful relationship, especially with your elderly parents. Seniors will have varying needs. You need to have a good understanding of what your elderly parents want and need. You can easily do this by asking them or going into discussions with them about it.
Keeping Everyone Happy
Thanksgiving is all about family. Keeping everyone happy will always be the priority. Having everyone happy by giving them wonderful memories and full bellies will benefit not just your own well being but you family's as well. Just remember, love, care and attention can go a long way when spending Thanksgiving with elderly parents.
Thanksgiving Activities for Seniors
The Thanksgiving activities for seniors that I've provided will require minimal effort to setup, manage and do. Preparing Thanksgiving activities for seniors will go a long way in showing your love and concern. However, you need to keep in mind that you need to have them rest in between activities so they won't end up too tired for the day.
Arranging decorations is the simplest of the thanksgiving activities for seniors that people often take for granted. You and your family spending more time together will always make Thanksgiving with elderly parents better. Just make sure that you sincerely interact with them all throughout the day. Also, check and take care of any and all tripping hazards around the house.
Aside from arranging things, you can have your elderly parents keep you company in the kitchen while preparing the food. You don't have to give them tasks since you guys can just enjoy each other's company by reminiscing about the past or giving updates. The best part of having them while cooking is that they can tell you immediately if they can't or are unable to eat particular foods or ingredients.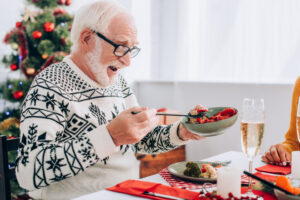 There are a lot of meal games. Usually, people go for memory games. However, you need to keep in mind that seniors won't always appreciate memory games. Another issue may be having the rest of your family going along.
You need to have meal games that can include everyone. Having most, if not all, of the people around the table participate will definitely make your Thanksgiving with elderly parents better for everyone. Seniors will often value sincere and wholesome interactions rather than forced ones.
Board games like Monopoly, Life, Scrabble or even Chess have and will always be popular during family gatherings. You need to remember though that after eating and playing meal games with your elderly parents, you need to wait for a few minutes before doing another activity. Your elderly parents will appreciate the board games more if they have the energy for it.
Tabletop activities include arts and crafts, completing puzzles, etc. You just need to make sure that your elderly parents aren't alone in doing these activities. Having your kids join in will make these activities memorable and fun. Getting most of your family members to do this as a bonding moment will make it a priceless memory for everyone.
Getting your whole family to join in might be a bit of a task but when you do, you guys will have loads of fun. Not only will word games help with keeping your memories sharp, it's a fun way of building up vocabularies. I've mentioned before in a number of articles that brain stimulation will greatly help any senior parents.
Family Charade
Playing charades is a staple in many get togethers. However, I found that it's even better as one of the Thanksgiving activities for seniors. Your elderly parents won't have to move as much but are still getting that much needed exercise for their joints. Your family will easily love doing this activity and might even become a staple for your future get togethers.
Seniors are treasure-troves of knowledge and life lessons. These life lessons come in the form of amazing stories. Your children will love listening to these stories while you and the rest of the grownups can reminisce about hearing them again. Just remember to keep a glass of water at the ready for your elderly parents.
After doing all or some of the things in the list, you can have your elderly parents rest by watching Thanksgiving themed movies with the rest of the family. Just remember to prepare healthy food to munch on while watching.
Also, you need to consider the fact that they might be hard of hearing. My solution to this is to have them seated relatively near the speakers. Though not too near as to hurt their ears as well.
As the last on my list, decorating pumpkins usually happen during Halloween. However, this is still one of the best Thanksgiving activities for seniors since its inexpensive, fun to do and inspires creativity for everyone involved. You just need to keep tabs on the sharp objects used and keeping your workstations clean.
Understand and be Kind
Taking extra steps to accommodate other people can be a hassle. However, you need to keep in mind that your elderly parents aren't just any other people. They are the ones who raised, loved and cared for you the best way they knew how. Going the extra mile in accommodating them in Thanksgiving or any other get together will mean the world to them.
I hope I was able to give you ideas or insights on what to do regarding Thanksgiving activities for seniors. I only included activities that have minimal preparation time and will get your elderly parents to easily bond with your family. I urge you to take the necessary steps in preparing for Thanksgiving with elderly parents. Make it fun and memorable for everyone.
Related Information